This may not be for the faint of heart but for those who enjoy deer hunting I encourage you to try this because if you aren't already doing this you are missing out on some really extraordinary eating.
I will say this is not a certified Scottish Haggis recipe - you can find that on the net if you wish. However, this is done in the spirit of the Scottish Haggis only with a Cajun twist coupled with a South Georgia twist and I think if you give it a go you'll find its well worth the effort.
To begin with, I had planned to make some haggis using the heart and liver and lights but my daughter's boyfriend shot the deer in the shoulder rather than the neck or head where I'd hoped and this messed up my ingredients. With my needle stuck on haggis I tweaked a recipe and it is as follows and its in the spirit of haggis. Also, if you don't have something I used I encourage you to not get hung up on the recipe just follow the procedure and you'll be fine.
The first step is removing the stomach to clean it. This isn't as bad as it sounds since the stomach only contains the chewed browse the deer consumed and does not have a foul odor to it.
Stomach removed and you can see what's left of the heart on the left.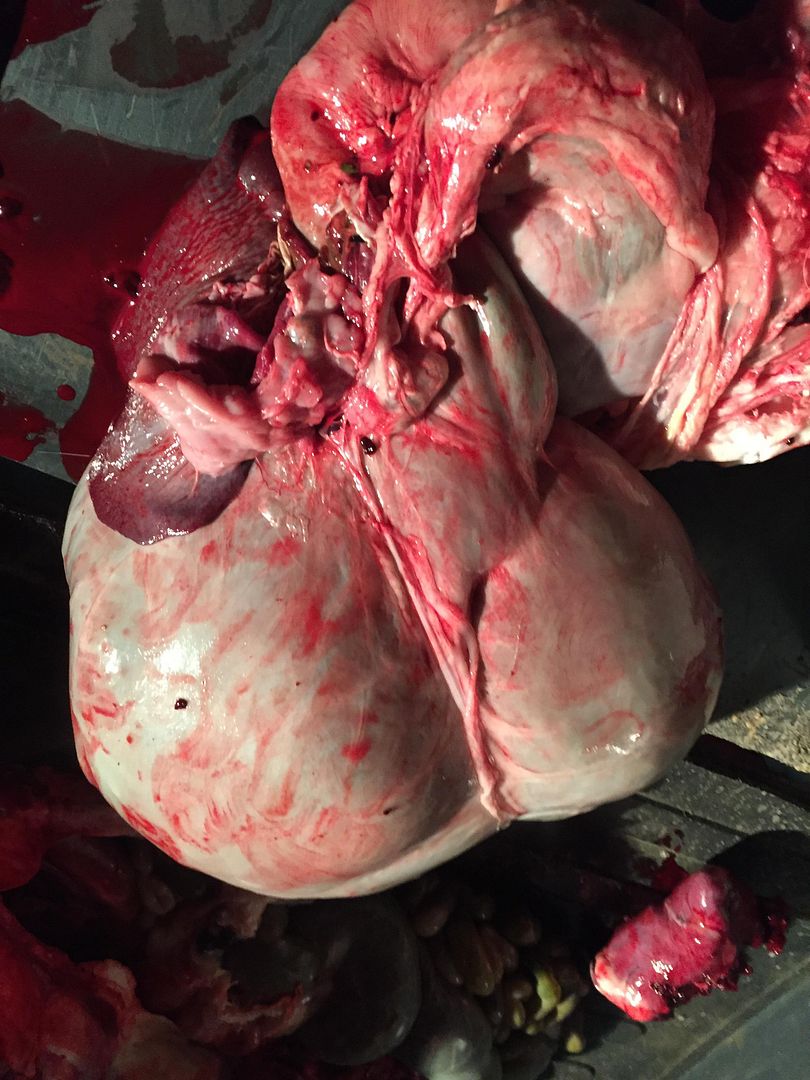 Once the stomach is removed find the openings and trim any attachments off. Next just squeeze out the chewed grass and turn the stomach inside out and rinse well with a water hose picking off any attached fat.
Next soak the stomach in two quarts of cold water to which you've added 4 TBS of bakiing soda and 1/2 cup vinegar and let it soak in this overnight in the fridge.
In the morning you will find the hairy lining of the stomach will peel right off just like the hairs on a scalded pig and you will be left with a beautiful casing suitable for many things. Rinse it a few times in cold water and use it turned inside out - hairy side out.
Cleaned stomach
The preparation from here is two steps. I'll try and keep these separated as best I can.
First the filling. Don't get hung up on trying to follow my ingredients to a T because the whole purpose of haggis is to make use of what you have. Just keep the ratio's about right and you will create a work of art.
Ingredients for Stage 1 Step 1
1/2 cup butter
1 cup chopped onions
1/2 cup chopped celery
1/4 cup diced red bell pepper
1/4 cup diced garlic
1/2 cup sliced mushrooms
2.5 lbs ground beef
2.5 lbs venison Italian sausage
Ingredients for Stage 1 Step 2
1 cup seasoned Italian bread crumbs
2 eggs
1/2 cup chopped green onions
1/2 cup chopped parsley
Salt and cracked black pepper to taste
In a heavy-bottomed sauté pan, heat butter over medium high heat. Add onions, celery, bell pepper, garlic, mushrooms and sauté 3 to 5 minutes or until vegetables are wilted. Add ground meats. Continue to cook until meat is well browned and separated, about 45 minutes.
Once browned, add bread crumbs, eggs, green onions and parsley. Cook an additional 3 minutes and season to taste using salt and cracked black pepper.
Your stuffing will look like this. Taste to be sure your spices are right. Set aside to cool some. I transferred mine to another bowl since you need the dutch oven again.
Ingredients for Stage 2
1/2 cup vegetable oil
2 small sliced onions
1 cup diced celery
1/2 cup chopped bell pepper
1/4 cup diced garlic
2 cups sliced mushrooms
3 cups chicken stock
Salt and cayenne pepper to taste
By now the filling should be cooled some. Tie off any holes in the stomach with butchers twine and a bubble knot leaving the largest to spoon the filling into. Spoon the filling into the stomach and fill completely. Once filled you just need to tie off the last opening KEEPING IN MIND THAT YOU DO NOT WANT TO STUFF IT AS TIGHT AS A SAUSAGE ELSE IT WILL BURST. Leave a little play is all I can say since the bread and the egg will expand during the simmer.
Once transferred to another vessel heat oil over medium high heat. Sauté onions, celery, bell pepper, garlic, and mushrooms approximately 2 minutes or until vegetables are wilted.
Add the haggis and brown well on all sides. Add chicken stock, bring to a low boil and reduce heat to simmer. Cover dutch oven and allow chaudin to cook approximately 1 hour turning occasionally. Season to taste using salt and cayenne pepper. Once cooked, slice into 1/2-inch slices and serve with natural sauce.
Haggis cooked and ready to eat.
Plated with some mashed potatoes and kale with Tasso ham is a really beautiful meal and all grown within a few yards of the kitchen. BTW - this gravy is outstanding. Almost makes you want to filter it and stick it in your arm with a needle.