Another game changer from Marianski
https://www.meatsandsausages.com/sausag ... arowiejska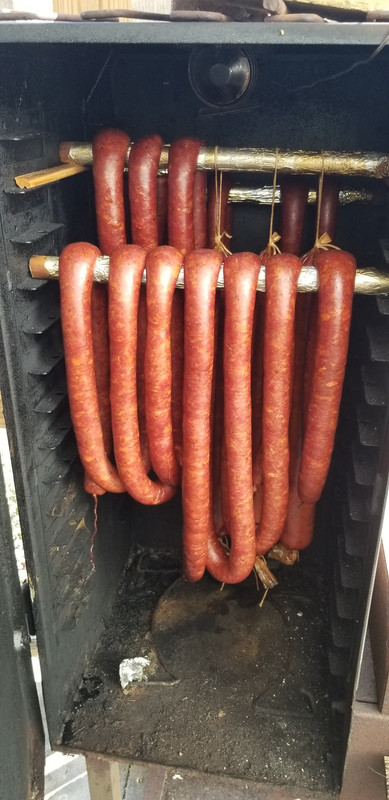 Very very nice. Did you pre-cure the meats or just follow the recipe? How about a pic of the cross section?
Sorry, I thought that I had uploaded it. Here's the cross section: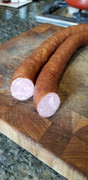 I cut all the meat up and classified it as best I could, and portioned the white and pink salt out into each class, i.e., 20/60/20 %. Each was mixed with its portion of salt, bagged, and cured at reefer temp for 2 to 2-1/2 days. Then ground, and immediately after grinding, the cured meat was combined with all the remaining spices. I hand mixed the bejesus out of it until it was sticky...not as bad as I expected. Meaning I only had to heat my hands up once under hot running water. Then everything was stuffed. This part was finished on Thursday at about 4pm with the intent to smoke on Friday whilst I worked. That did not happen - work exploded. I was stressed about waiting one more day, but thought about it and realized as long as I was at a safe temp I really was just allowing another full day for the sausage to cure. Luckily my thought seemed to be correct or certainly nothing I could note if incorrect.
Here's my red neck hanging process - needed something quick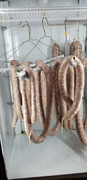 Stefan that's a good video showing how to link and hang sausages for smoking. But to tell you the truth, if they worked in my father's shop they would not have stayed too long. When it came to twisting and linking, he was a perfectionist.
Agreed, great video. Many things caught my eye, but one I didn't expect was that some of the sausages were not hung on the stick at the ends...meaning at least a few versions, the full casing was in contact with the stick and not the twisted part. I have always tried to do the opposite as I feared my sausage would fold at the stick.

I know these pro sausage sticks are triangular in cross section. I cut some round dowel and I'm happy with it but I wonder if I could cut some maple into triangular cross sections for more sticks. And does anyone see a problem sticking the raw sausage on a wooden dowel...you will note from my pics that I wrap with aluminum foil...but that may be overkill. Just figured they would get dirty and be more unwashable than metal, so best solution was to wrap

Silly question - I know

thanks for everything guys
They look mighty tasty! I've always used wooden dowels but here in Alberta you could get metal angle iron at any hardware store.I thought about it just because it spread them apart a little more.
Moderator

Posts: 1927
Joined: Mon Mar 05, 2012 04:10
Location: South Georgia
Those look good! I use wooden dowels and bamboo and have never had a problem.