After having made several successful batches of traditional Polish kielbasa (my wife`s family are Polish), I decided to investigate some sausage recipes that would reflect MY own Basque heritage.
I have made a number of `Basque-style` dishes before, but never looked into the `tube-meats.` However, that was to change. Last weekend while at Lake Tahoe, a friend who knew I was making sausages at home, asked me if I made any `Basque` sausages yet. I naively told him I wasn`t aware of any particularly `basque-style` sausage.
So we wander into a local butcher shop to pick up some nice steaks and I see a magazine in a rack ("Edible Reno-Tahoe") with a cover depicting...(what else?)...Basque chorizo! Produced locally at a Basque deli in Carson City, Nevada.
Cover of the magazine I have showing a batch of Basque chorizo:
A trip to that deli ensued & I met one of the Basque employees there. I sampled the chorizo. Great stuff-not surprisingly, it is much closer to the fresh Spanish-style versus the Mexican chorizo: peppery, garlicky; some were sweet while others quite hot(!). We spoke for a while and he shared with me the list of ingredients used in this popular chorizo. They crank out over 200lbs of this stuff weekly. Some of the ingredients may be hard to get, I was told, but if I was serious about making it `authentic,' and the REAL DEAL, it was worth the effort.
Once I had my ingredients list, I was off & running.
Pork & beef mixture.
Here's 5 pounds of pork butt and 1 pound of beef chuck, well-chilled (near-frozen) & ready to grind:
Other key ingredients included:
Espelette pepper
(Basque: Ezpeletako biperra) - "the beloved chile pepper of the Basque country." A variety of pepper that is cultivated & dried traditionally in the northern territory of the Basque people. Flakey ground dry red pepper; Mildly sweet at first taste with a bit of a kick afterwards.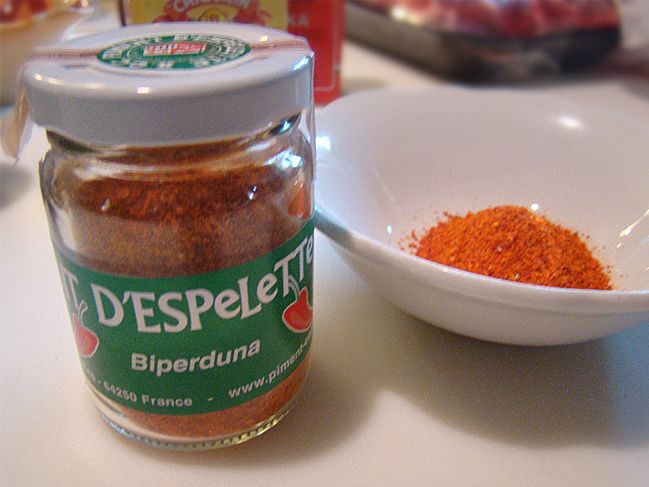 Choricero red pepper
-a red pepper utilized in cooking and making of sausages like chorizo. The `pimiento choricero` is typically sold dried. To use it, it must be rehydrated over the course of a few hours, and then the flesh is scraped out. It is also sold in glass jars as a paste. Finding dry choriceros was next to impossible, but I did locate jars of the `paste.`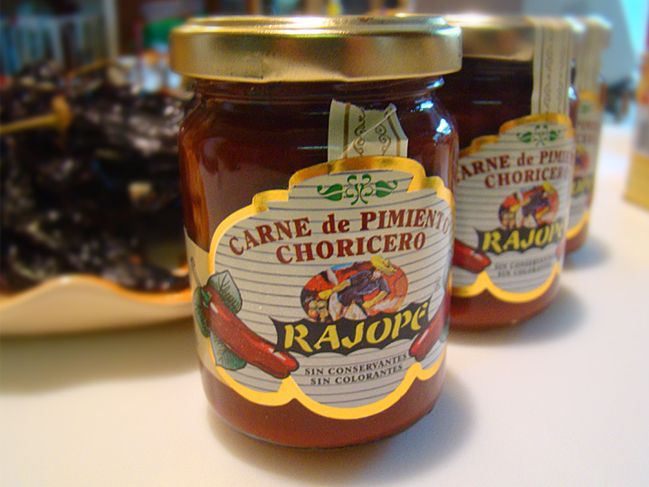 Here's the rest of the ingredients. I acquired some nice Sweet Spanish paprika (preferred) but a good Hungarian sweet would do just as well, I was told.
Fresh Garlic, Red wine, Black pepper (tellicherry variety preferred), Kosher salt, Sugar, Pinch of nutmeg or allspice `to taste` and Cure#1
(if smoking- which I plan to, although the cure is not pictured below:
Added all the ingredients to the ground meat (4.5mm plate), including the pink Cure#1: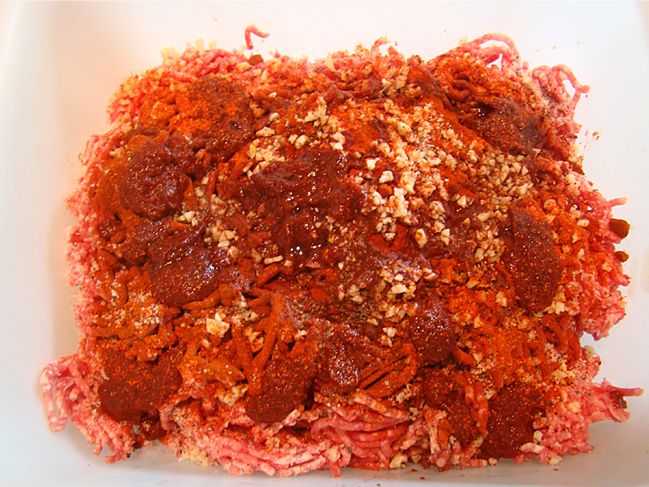 All mixed & ready to go: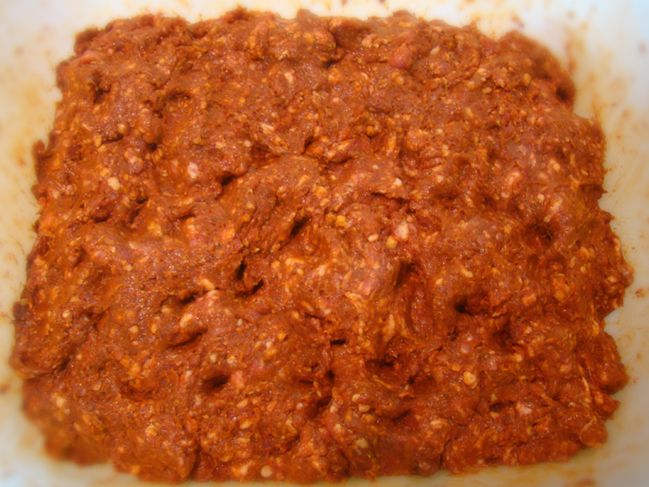 I'm letting this sit overnight. I did fry up a small piece to test the overall flavor. It needed a bit more salt & a touch more sugar to offset the bit of paprika 'bitterness', but the flavor I was after ('red-peppery, garlicky, bit of heat') was pretty much there. The smoking will, I believe, only enhance the final product.
Next Day:
5:00am.....Got an early start this morning and began the stuffing process. Using 30-32mm natural pork casings.
Six pounds ready for the smoker:
6:45am: Managed to dangle the load over two dowels, trying to keeping 'touching' to a minimum. I couldn't find any more dowels as they've mysteriously wandered off-so I made do with the two.No smoke for the first hour-just 130° temp to dry them a bit...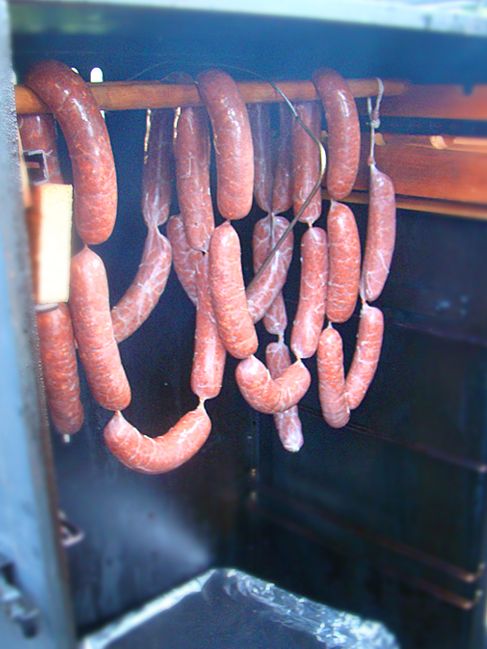 Used my A-maze-n smoker with 2.5 lanes of maple dust. I wanted something 'light' so as not to overwhelm the sausage flavor. Kind of silly of me, really, considering all the spices in the chorizo...
10:00 am After two hours of smoke, took a peek...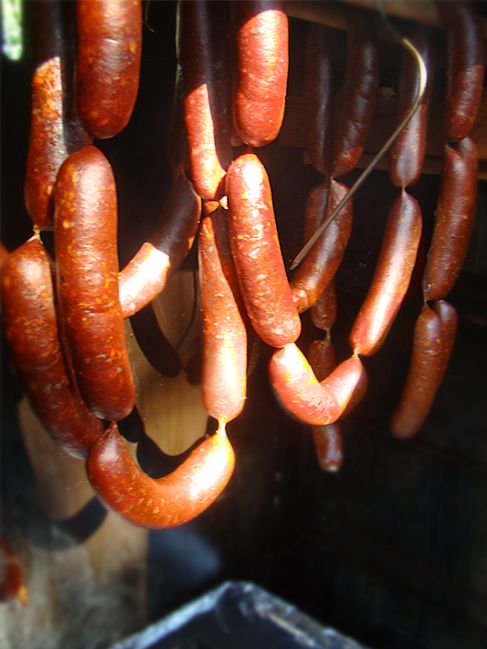 3:30pm - I finally hit the desired IT after 7.5 hours so its time to pull the chorizo....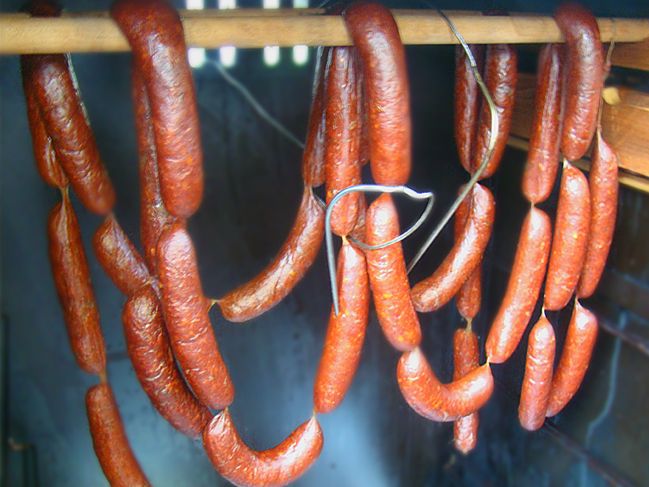 Bloom time. I had some weird twist and 'curls' on some due to my chorizo-wrangling on the dowels. The color came out nice-that dark, rich mahogany red.
They''ll cool & bloom here for about an hour...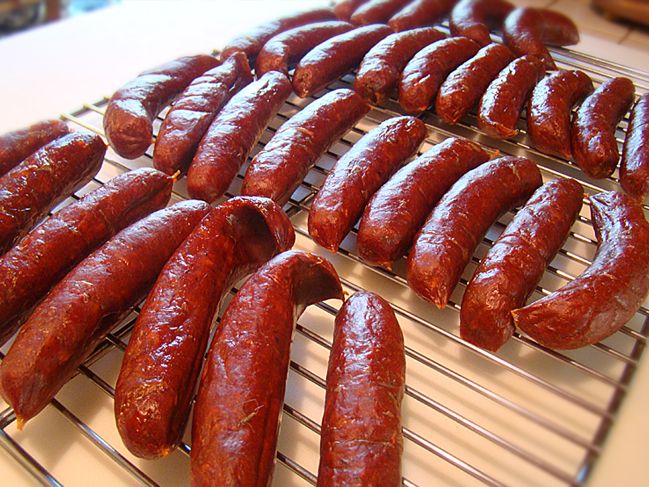 Sample time!
Although they turned out not as spicy as the samples I had in Carson City, this is still a very tasty chorizo. Nothing like the Mexican variety.
Plenty of garlic with a strong 'red peppery' bite. NOT hot-which I was concerned about using the espelette pepper for the first time. More importantly, my wife and boys really liked it.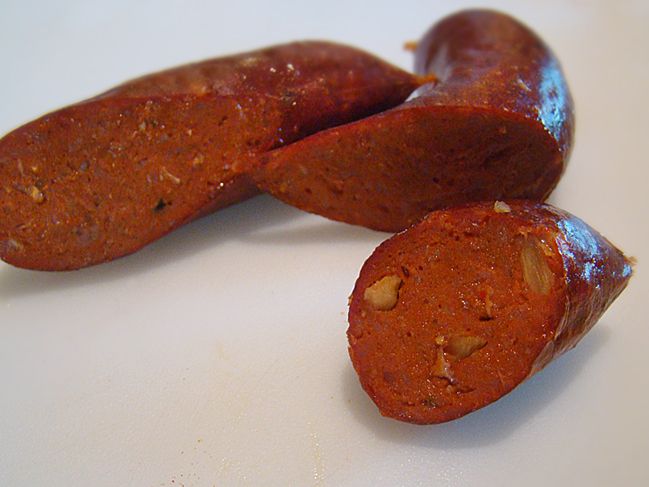 It would go great with eggs, or in a good paella. Heck I might even get some good crusty bread & make a tasty sandwich with some!
-Kevin