Dave's Dilly Dogs
I absolutely love fresh dill and have looked for a recipe for Dill sausage off and on for a year or so to no avail. After reading Stan and Adam's Home Production of Quality Meats and Sausages I decided I can make my own recipe easy enough. After a few tries on adjusting the dill to my taste, the following is the result.
Grind with 3/8 plate, refreeze and grind with 3/16 plate
Add spices and dill
Stuff into 22-24 sheep casings
hang to dry for an hour or so and place in preheated smoker and smoke until IMT of 154 is reached - Bad picture for sure
remove from smoker and cool with cold water.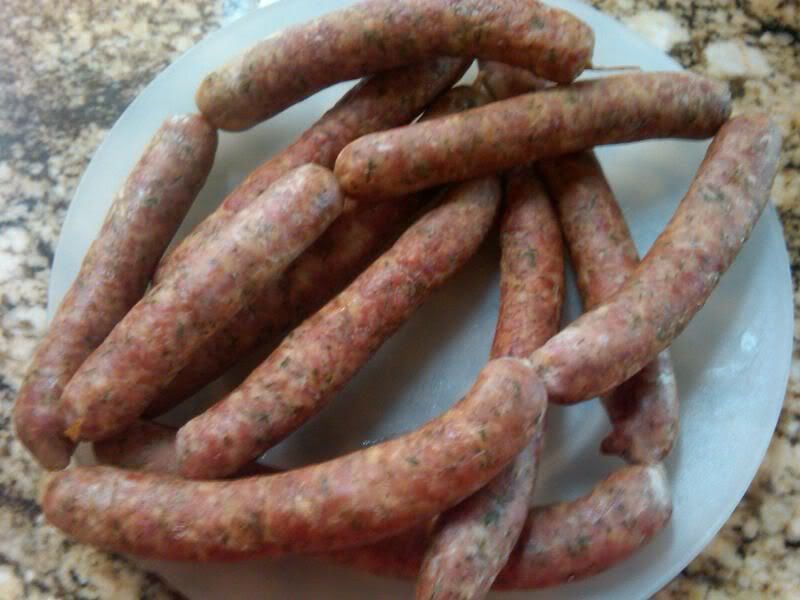 1 Kg pork butt
16 g salt
3 grams fresh ground pepper
22 grams fresh dill weed
2.5 grams cure #1 if smoking
Cut pork into 1" cubes. Chill pork and grinder parts in freezer for 20 minutes. Grind cubed pork through a 3/8" plate. Refreeze and grind through 3/16" plate. Mix pork with seasonings well until sticky.
Stuff into sheep casings. Place in fridge overnight to develop flavors if cooking fresh.
If smoking, hang at room temperature for two hours to dry or hang in 120* F preheated smokehouse for one hour to dry. Smoke for 60-90 minutes, slowly increasing temperature of smokehouse to 165. Continue to cook until internal meat temperature reaches 154* F. Shower with cold water to reduce internal meat temperature to 100*F.
Grilled and served on a New England style roll or better yet, a home made
Horse thief hotdog bun
by Chuckwagon
If you enjoy fresh dill, I think you will enjoy these little fellas.
Dave Zac