Inspired by Butterbean's wonderful recipe for souse, I decided to make some, as well as some blood and tongue sausage since it uses almost the same ingredients.
Here's what I used:
Pork Hocks 2630 g
Pigs Feet 3583 g
Beef Tongue 3039 g
Pork sirloin 907 g
Pork Backfat 272 g - ONLY used for the blood/tongue sausage, NOT added to sulze
I used Chuckwagon's 25° SAL brine to cure the hocks, feet and tongues X 4 days and the lean pork sirloin X 2 days. (See CW's 25° SAL brine recipe which includes sugar, salt, cure #1 and water).
Hocks and feet ready to cook: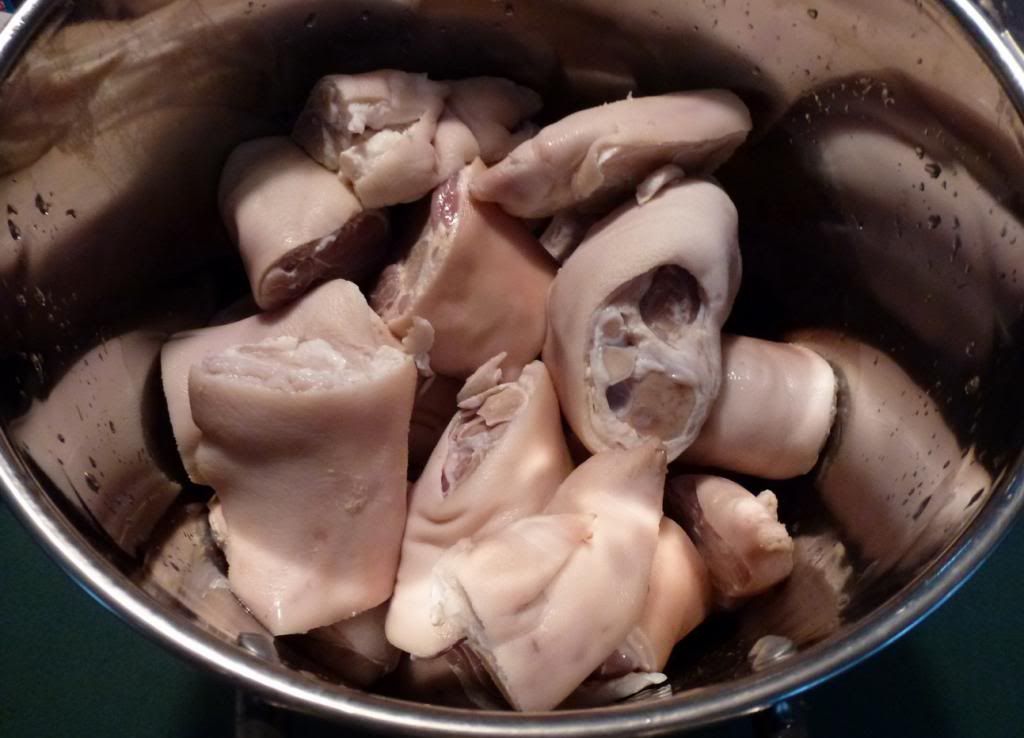 I added 4 TBS of sauerbraten spices (may substitute pickling spices) plus 1.5 TBS whole peppercorns and 1.5 TBS juniper berries which I coarsely ground in a spice grinder (coffee mill) and then tied into a teabag using cheesecloth: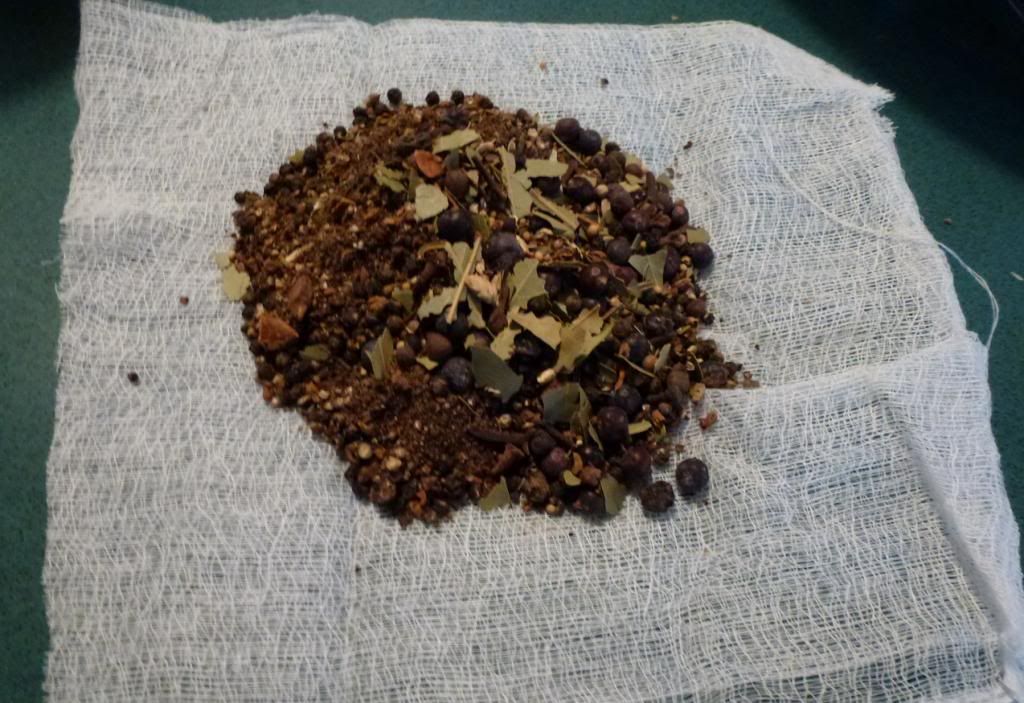 I then cooked the meats X 3 hours at 194° F except for the sirloin which I only cooked for 1 hour. I then de-boned the feet and hocks and chopped the meat and skins and removed the skins from the beef tongues.
Tongues after skinning: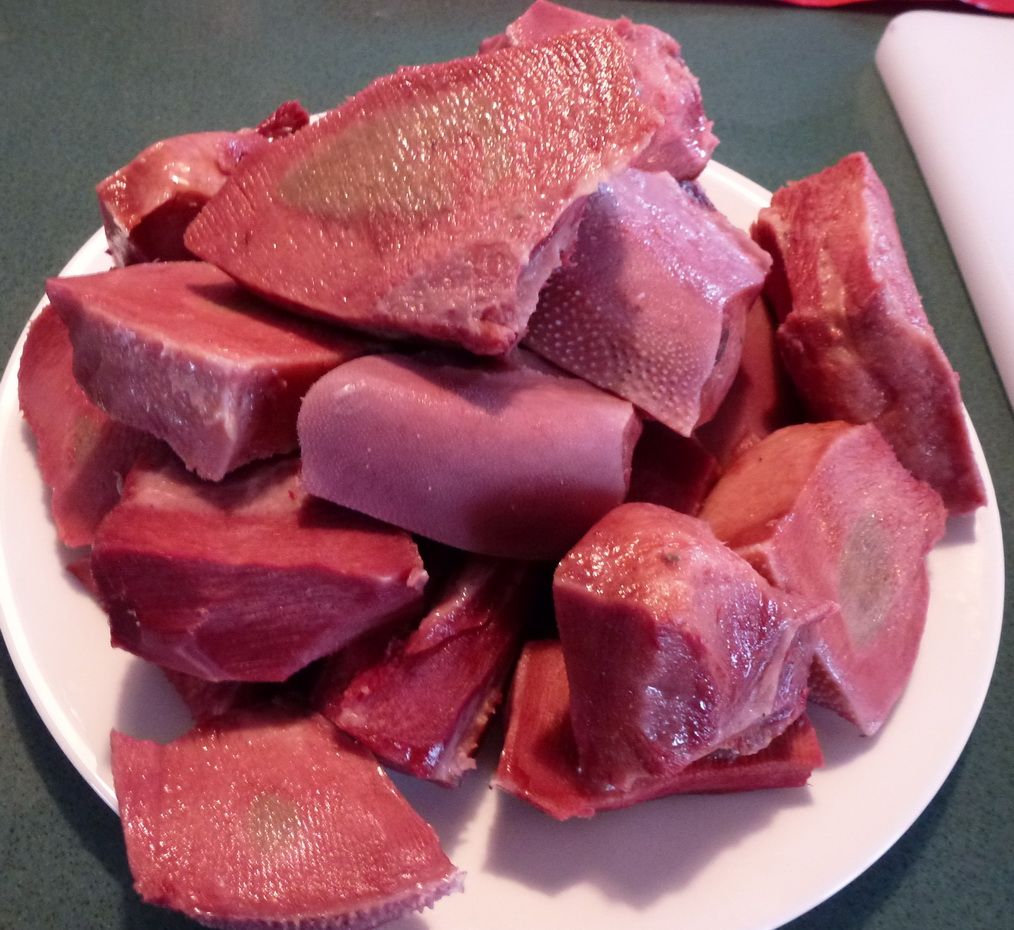 After chopping the meats into 3/4" to 1" chunks I added the following spices based on the weight of chopped meats to the broth and vinegar mixture (amounts to follow):
Dextrose 0.8%
White Pepper 0.4%
Onion Powder 0.3%
Garlic Powder 0.2%
MSG 0.2%
Marjoram 0.1%
Cloves (ground) 0.05%
Coriander 0.02%
Allspice (ground) 0.01%
Broth that was used cooking the meats above: 7%, then add the following:
White Wine Vinegar 30% of the weight of the broth calculated above
I did not add any additional salt since the cured meats had enough retained salt for my taste.
After cubing the meats I added the broth and vinegar along with 20% 275 Bloom Gelatin powder (20% bloom gelatin based on the weight of the broth plus the vinegar). I then brought the temperature of the cubed meats, with the added broth - vinegar - spices - gelatin mixture up to 155° F to help kill any nasties. I then ladled the cubed meats into a 4.5" diameter fibrous casing followed with the broth-vinegar-gelatin-spice mixture. It then went into the fridge overnight.
Here's the result:
It tastes wonderful. Although the amount of vinegar seems high, it has just a hint of tanginess after cooling overnight. It could have used a bit of added salt, but I like things less salty nowadays. I wouldn't change anything except cook the meats another 1 hour longer since I had a bit of trouble peeling the skins off the tongues and the hocks/feet were a chore to de-bone and skin/chop. I probably didn't need to add the powdered gelatin, but I wanted to make sure it would gel, which it did perfectly.
OK, now onto the blood and tongue sausage portion.
I used 1820 g of cubed tongue, pork hocks, feet and sirloin that I reserved from the above sulze recipe for this to which I added approximately 15% finely diced pork backfat which was scalded in 200° F water for 5 minutes (this helps to prevent smearing and blood discoloration of the fat:
Backfat diced to 1/4" and scalded: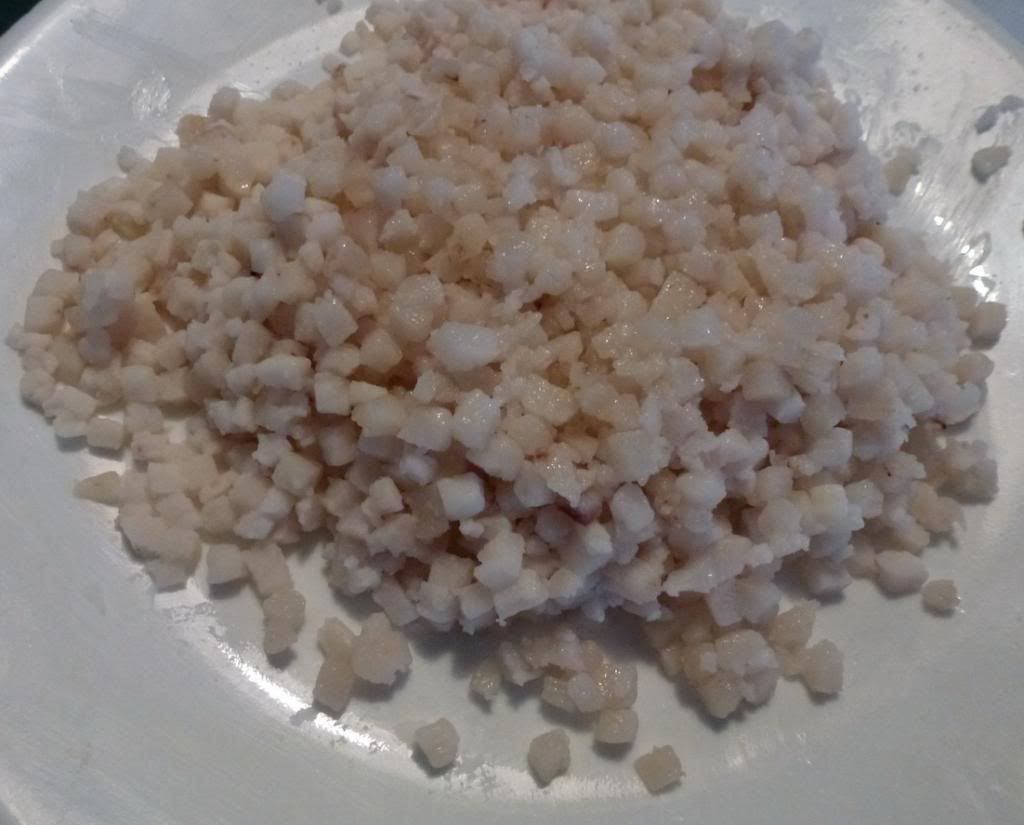 I added the exact same percentage of spices as listed above to this meat mixture. I then hydrated dried pork blood with some of the cooking broth (at the rate of 1 part dried blood to 5 parts broth). I got the dried pork blood from a vendor in the UK which shipped it to me in the US without any problems. I also added 20 gms of bloom gelatin just to make sure it would firm up properly. I mixed all this together and then ladled into a 4.5" casing and then simmered it in 160° F water for 2 hours, then cooled at room temp and finally into the fridge overnight. The results were really good. Picture below: