December is a crazy month for me at the church office, so between work and other obligations around the home (the Christmas Honey-Do list), I`ve had little or no time to make meats of the tubular variety.
But I had a chance this weekend to do some grinding & stuffing, so I asked the troops in my household what they`d like me to make as Christmas is approaching fast. The popular choice was having me make
PORK ROLL
- aka
"Taylor`s Ham."
Many of you know what I`m talking about here. If you`re not familiar with this tangy & porky delight, do a quick internet search & you`ll discover all you need to know about the tasty stuff. It`s big back east (my wife`s family is from New Jersey), and around Christmas, it was a popular treat for her family. My boys & I have enjoyed it as well-even though we`re native Californ-yuns. It was a big hit the last time I made it
(waaaay back in July of 2011).
So enough of the blather...
on to the fun stuff!
Start with three pounds of nearly-frozen
hickory-smoked bacon
...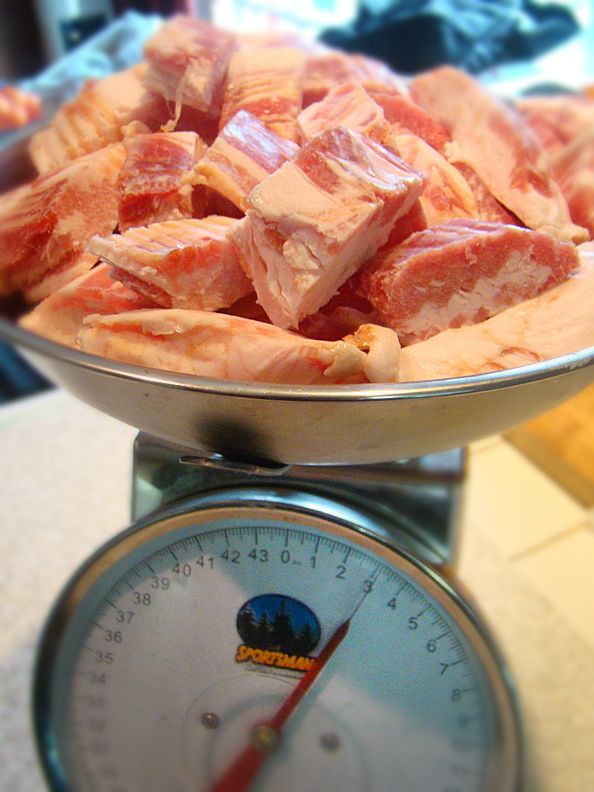 Also needed is about 7 pounds of
fresh pork shoulder
, cut up & iced for the grinder...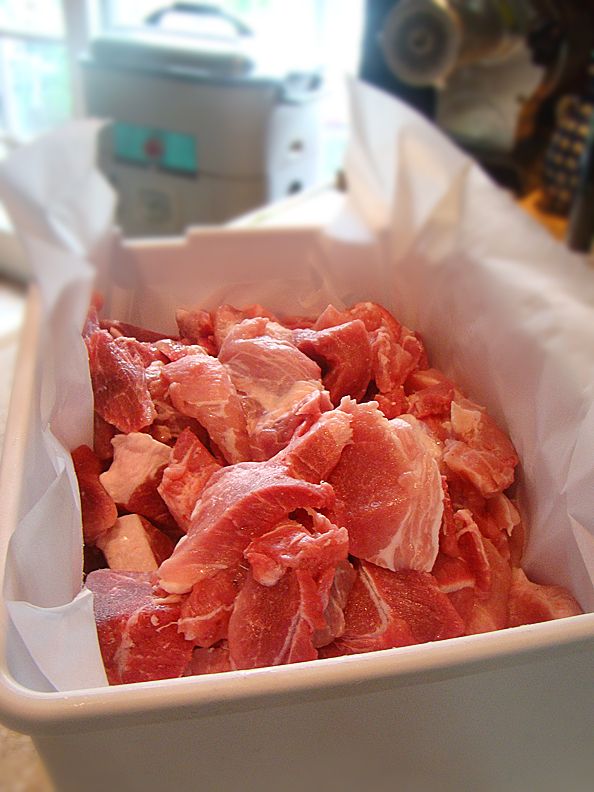 Start by grinding the bacon. I`m using a 4.5mm plate for the initial grind...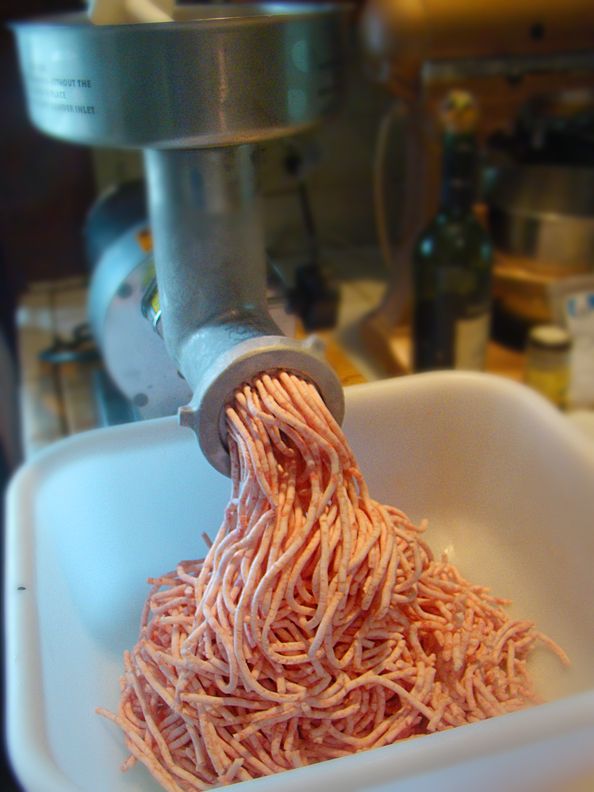 Next up is the pork shoulder grind. Same plate size...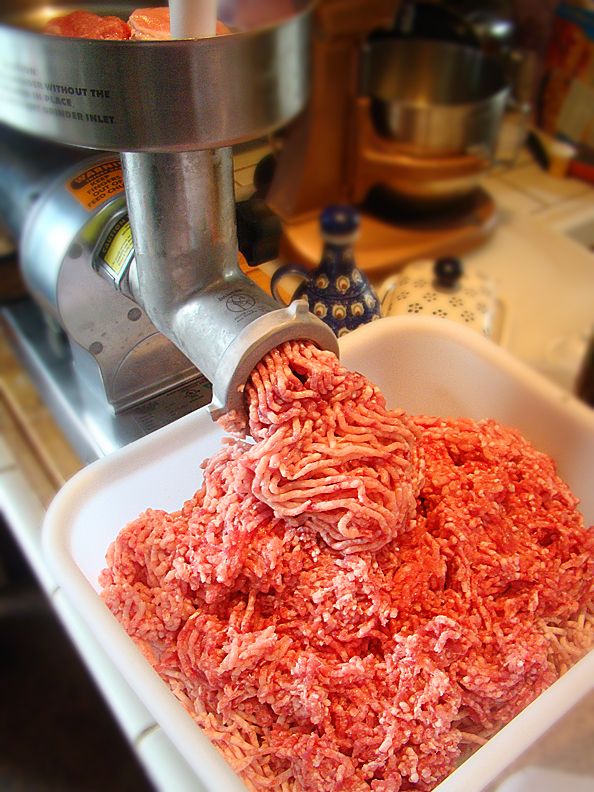 SPICES lined up
. I upped the amount of
salt
and the
ECA
I used last time. The pork roll last time just needed a bit more of the saltiness & tang...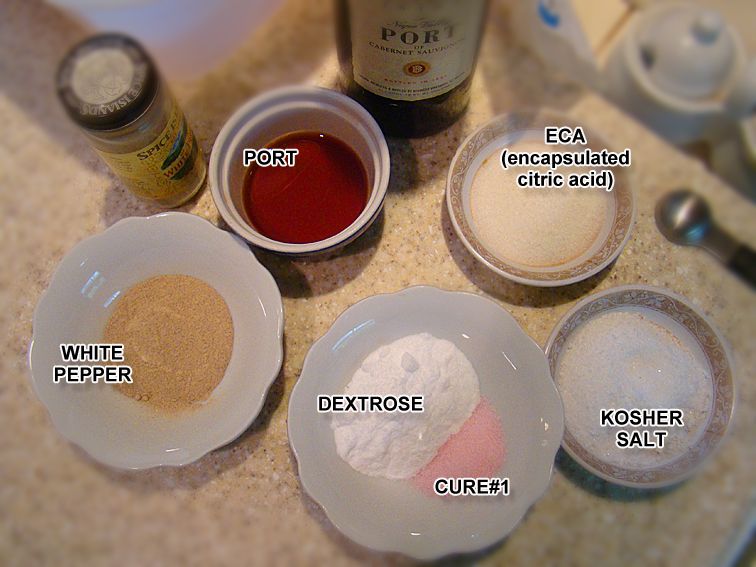 I added the dry ingredients to the meat, with the exception of the ECA
-which shall be added just prior to stuffing. Before mixing, I add the
port
...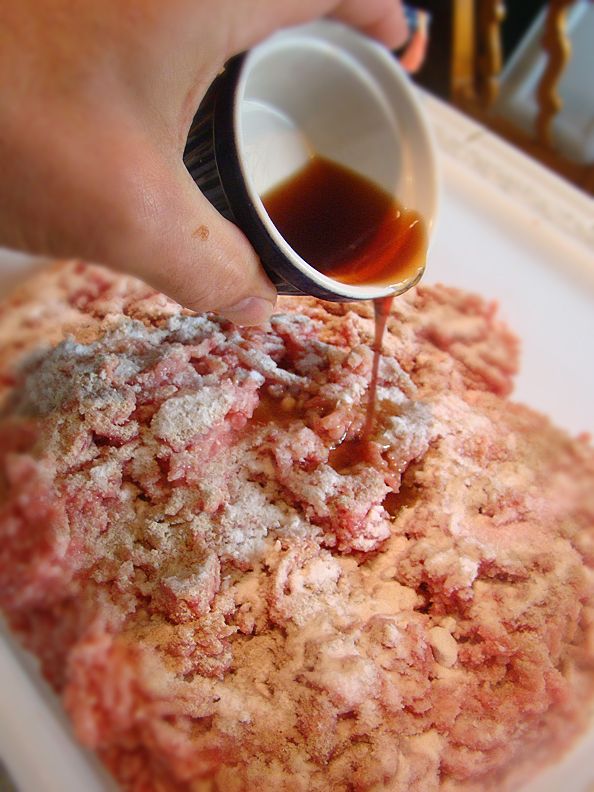 My
Custom Mixers
are primed and ready to go.
Thickly-insulated gloves make this job easy without the pain of frost-bite...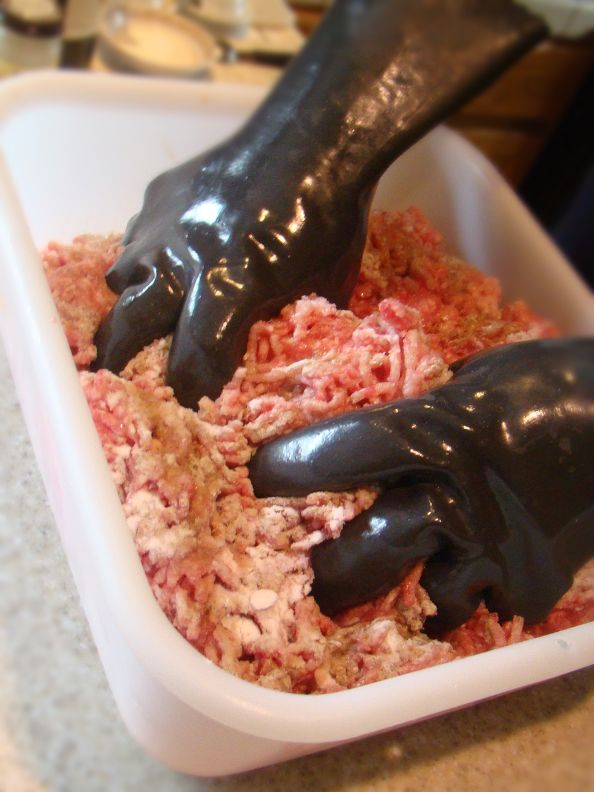 After 10-12 minutes of robust mixing, the meat has developed into a nice, sticky paste...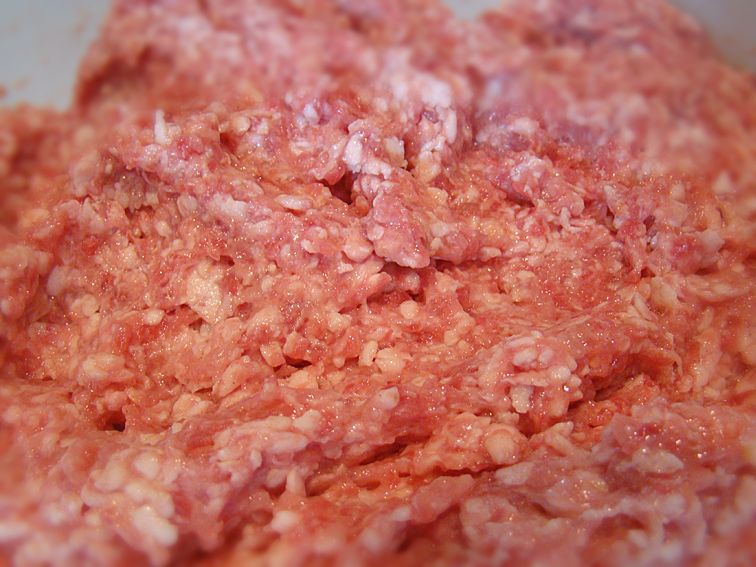 Before stuffing, however, I want a finer texture and so I run the meat paste through the grinder using a fine plate (3.0mm). This hopefully will ensure a very uniform texture in the final product...
Comparing the before & after of the single grind (4.5mm) and the meat following a second fine (3mm) grind...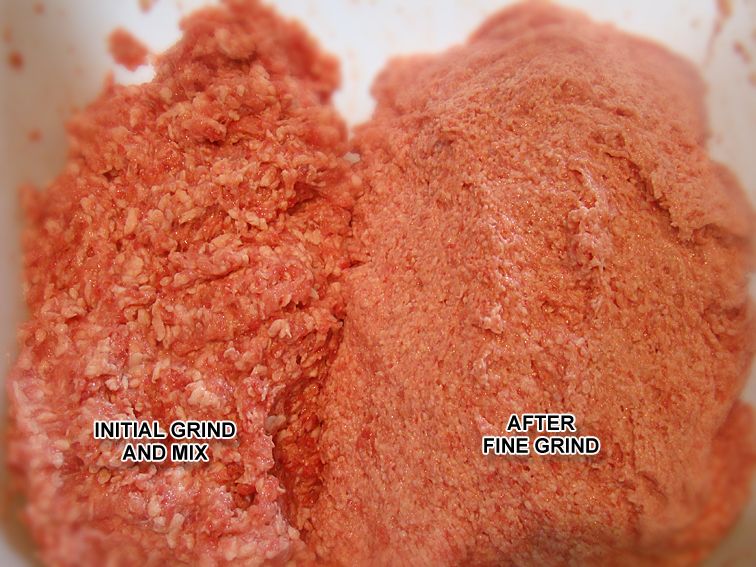 One last addition & mix- the ECA is added now and I`ll gently incorporate this thoroughly into the meat paste. A quick test-fry of the mix got thumbs up from the lucky tasters...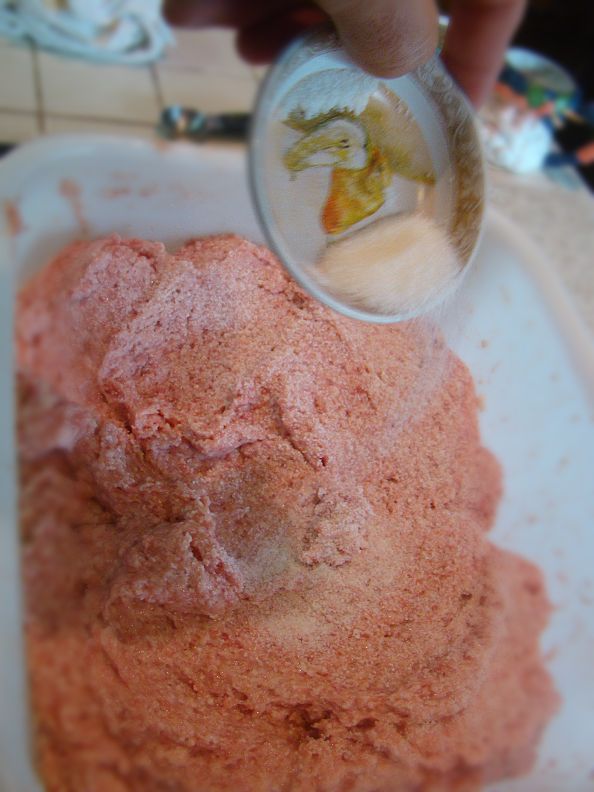 While all this mixing & grinding was going on, I had three fibrous casing soaking in warm water. In the past I`ve used muslin or cotton bags for pork roll, but since I was without, I opted to use these
3x20" fibrous
from Butcher & Packer...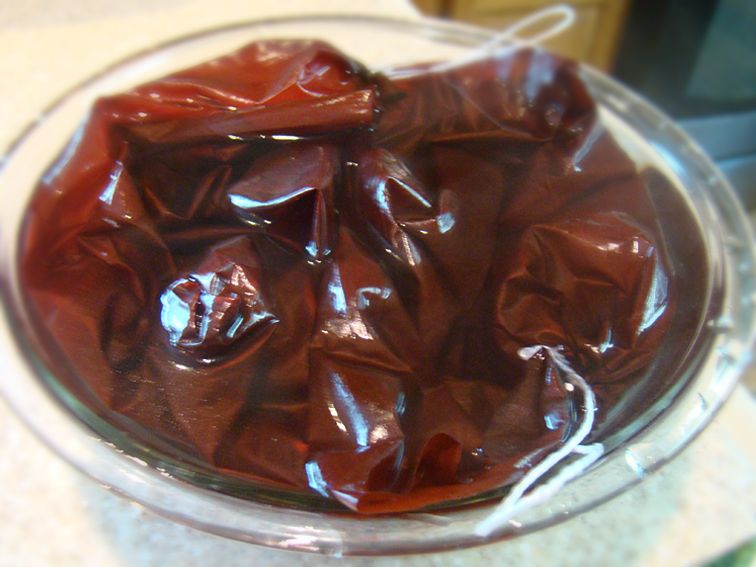 My son helped with my little
5lb Grizzly stuffer
& in no time we had 3 good-sized chubs hog-ringed & ready to go the fridge...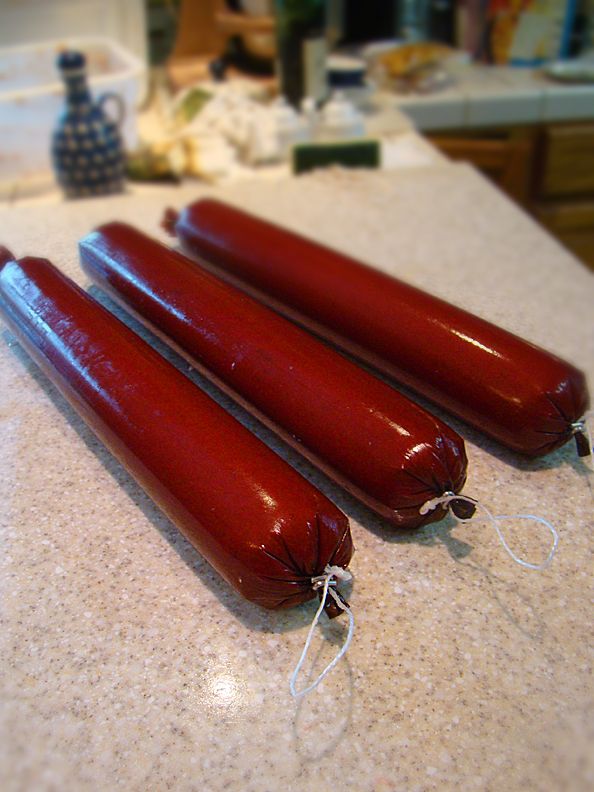 Since I`m booked all day tomorrow, it looks like these chubs will have to wait a day or so before they hit the smoker & poacher.
SMOKING TIME
Got the pork roll chubs in the smoker early this afternoon-as well as 5-pounds of meat sticks I made in the morning.
I keep an eye on the temps throughout the day. I anticipate this could be a fairly long smoke. Outside temp is 40°F, cools & damp.
I'm using the 'Pitmaster's Blend' pellets for smoke-generation.
One hour in...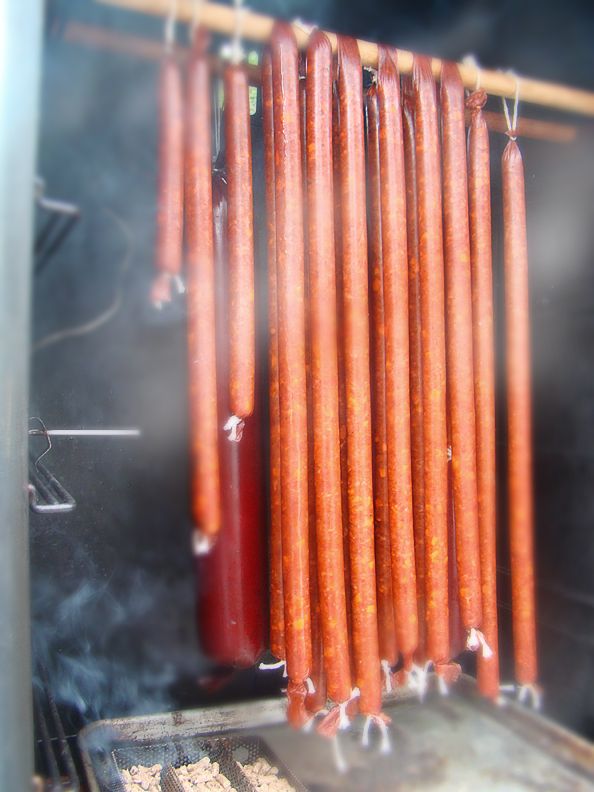 I pulled the meat sticks after 7 hours and let them cool on a rack ( see my other thread if interested in seeing the sticks), and placed the 3 large chubs into a 160° hot water bath. The IT of the chubs was at 128° when I pulled them from the smoker. After 25 minutes, they were ready (154°) to pull from the poacher. From there, into an ice bath and an overnight stay in the refrigerator.
NEXT DAY
:
It's sample time!
The chubs had firmed up nicely and were ready to slice.
The roll had an nice sweet, smokey aroma as I sliced it. The appearance was nice & uniform-even a bit more emulsified than the typical store-bought stuff.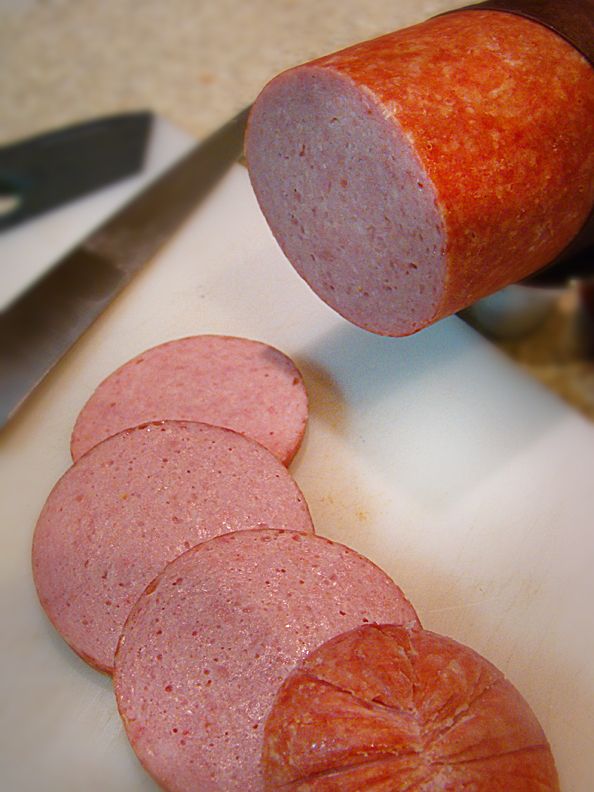 On to the grill
: Mmmmmm! The smell of Taylor's Ham cooking is reminiscent of both bacon AND of ham!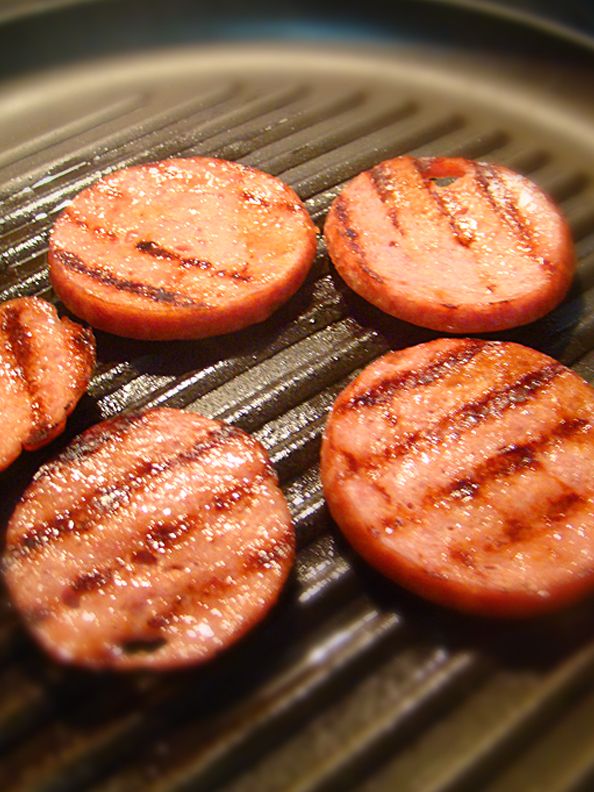 Great way to start the day! Sweet, smokey, tangy (!).....I like a little mustard on mine, but Taylors Ham is pretty darn tasty by itself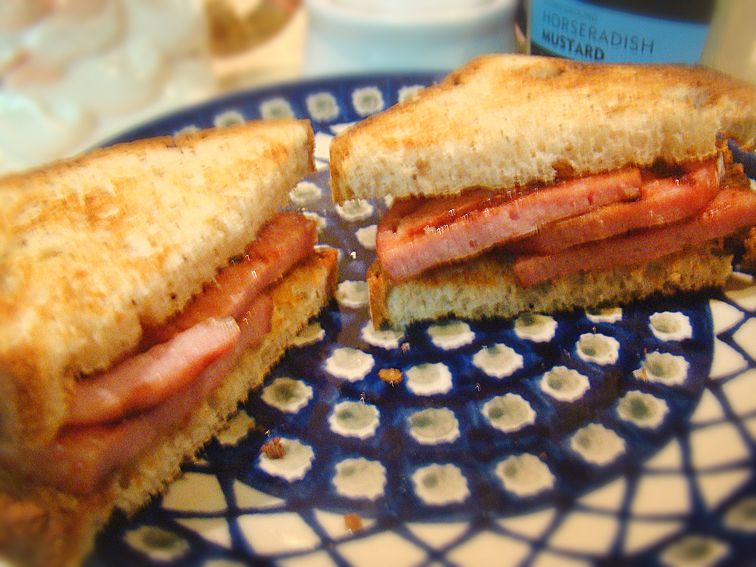 Overall, the flavor in this recipe is REAL close to the Taylor's Ham I had from NJ. My wife concurs.
One of the great things about making it yourself is tweaking it to your own tastes (more tang, less sweetness, etc.), and I know EXACTLY what is in it.
If you're interested in trying this, here's the recipe I used-my adapted version modified to suit our families tastes. DO adjust the ECA to your tastes. WE like a lot of TANG so used the max amount shown.
Enjoy!
Kevin
PORK ROLL (TAYLORS HAM)
Pork Butt......7lbs/3175g
Bacon.........3lbs/1361g
Kosher Salt....34g
Dextrose.......18g
Cure#1.........10.5g*
White Pepper...11g
Port...................2 TBL
Encapsulated Citric Acid (ECA)......17g-34g**
*Less needed due to cure present in bacon
** Level of tang; adjust to taste.
1. Partially freeze bacon & pork
2. Grind bacon & pork through medium plate
3. Mix pork, bacon & all spices, cure & port-except for the ECA.
4. Regrind the mixture with a fine plate (3mm) -if smoother consistency is desired.
5. Add ECA & mix well before stuffing.
6. Fry a sample & adjust seasonings if necessary
7. Stuff into 3"+ fibrous casings or muslin sack(s).
SMOKE
Prewarm smoker to 120°
Hang chubs for an hour or so to dry.
Smoke at 130-150° for 3-4 hours until IT reaches 125° or higher.
POACH
Poach in 165° water bath until IT hits 152°
Drop in ice bath & keep them there until IT reaches 100°
Refrigerate overnight to firm before slicing.