Since I have recently been slaughtering some hogs I ended up with a lot of offal meats that needed a home. Thankfully, Debi at Deejay's Smoke Pit shared this recipe with me and I found it delicious and is a perfect sausage for those who don't like too strong a liver taste. I can't really describe the taste other than its very good and everyone whose tasted it has loved it as long as I didn't share the ingredients with them.
The assorted offal meats - 10 lbs. Rough breakdown (2 hearts, 3 kidneys, lights, meat 70/30) 40% Liver 60%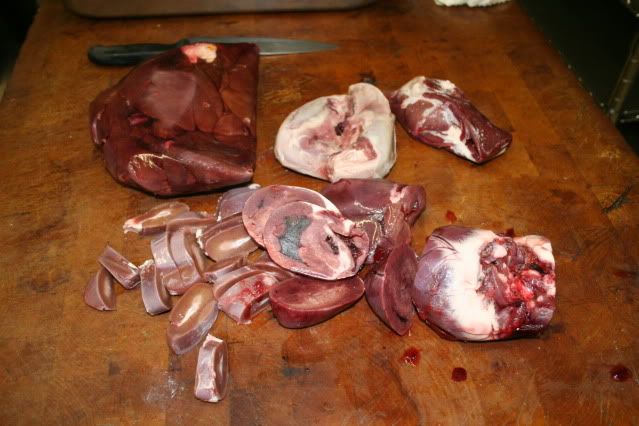 The spices for 10 lbs.
Meat was ground once through 1/4 plate then spices mixed and ground 2 more times.
Mince was then stuffed and sealed and dropped into a waterbath at 180F. Temp of water in pot will drop to 160F with addition of sausages. Maintain this temp till the internal temp reaches 152F in the meat.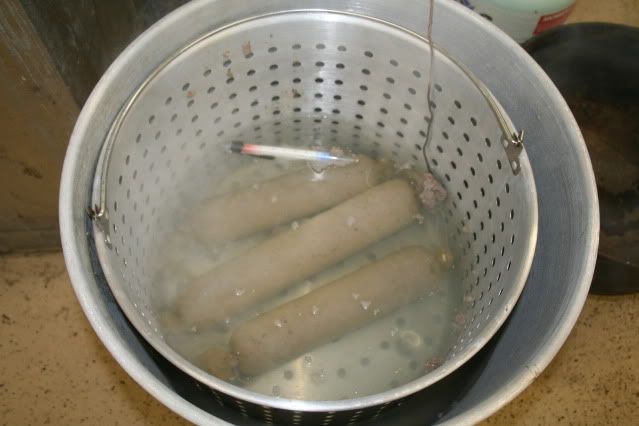 Sausages are then pulled and dropped in an ice water bath to cool. Once cooled, sausages are then hung to dry then placed in the smoker at 125F with heavy smoke and left until the desired color is reached. About 3 hours. I pulled mine at 2.5 hours.
End product looked like this.
Am told these sausage will not keep very well and need to be consumed fairly quickly which shouldn't be a problem. I finished these on Sunday only have 1.5 sticks left cause it was enjoyed so much by people. I did stick one in the freezer and I'm going to see how it fairs but I suspect it will get a little gritty.
Here is the exact recipe I was given. I modified it myself by adding 1/2 TBS of black pepper. This is definitely an offal sausage I will make again.
Braunschweiger Liver sausage
For 10 lbs sausage-
2 cups non fat dry milk
5 Tb salt
2 Tb onion powder
2 Tb powdered dextrose
2 tsp insta cure No. 1
1 Tb ground white pepper
1/2 tsp ground cloves
1/2 tsp ground allspice
1/2 tsp rubbed sage
1/2 tsp ground marjoram
1/2 tsp ground nutmeg
1/2 tsp ground ginger
10 lbs organ meats
grind all meats through a 1/4" plate several times. Mix all ingredients. Stuff into casings.
place Braunschweiger into cooker with water pre heated to 180F. Water temp will drop to 160 - 165. Continue cooking until internal temp reaches 152. After cooking place sausage into container filled with ice and water and cool as rapidly as possible for 1 -2 hours.
Remove from water hang on sticks. You may shower Braunschweiger with hot water for 30 seconds to remove surface grease. Hang at room temp for 1 hour or until dry. Remove to 115-120 F pre heated smoker. Apply heavy smoke at this temp for approx 3 hours or until desired color is obtained. After smoking shower with cool water for about 5 minutes. Let dry and remove to fridge overnight.