This weekend consisted of making Picanha, a Brazilian / Argentinian dish, depending on who you talk to. The meat is a "sirlion cap" or "rump cap" or "tri-cap" depending on the butcher.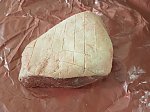 Next to the tenderloin, this is the second most tender piece. It consist of a thick amount of fat, which during cooking, goes through the meat and gives it more flavour. The fat is crosshatched and everything is generously salted, with rock, sea or coarse salt. Not rubbed but sprinkled.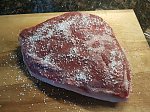 Its then cut into 5 pieces, salted some more and skewered into a U-shape.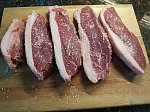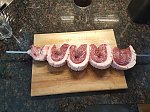 Traditionally, its been cooked on a bed of hot eucalyptus coals, but due to the great Saskatchewan eucalyptus fire of '08, its a hard commodity to come by, so I used ash instead.
I roasted for about 45 minutes to get a variety of meat doneness, from well to medium. The salt, throughout the cooking, falls off so its not too salty.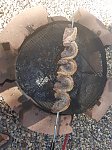 Its then can be severed with chimicurri sauce or just eaten as it. It truly is a flavourful and tastey piece of meat. Certainly recommend for those who haven't had it yet. Try to stay away, if you can from a propane bbq but rather use coals or open fire. Better flavour thoughout.