Last month I scored some Saskatchewan whitetail venison and this past weekend made a smoked sausage and a liver sausage. The smoked sausage was made from a recipe posted on the Polish WD forum by Andrzej Kwiatek, chief technologist and instructor at the School of Domestic Meat Processing. It is a well seasoned and flavourful sausage, with good mouth feel and aroma. The liver sausage is based on a Polish recipe with an addition with venison, which added to the flavour of the pork liver and pork. Flavour is mild and pleasant, and it goes well with rye bread and a pickle or on a cracker as an appetizer.
Venison Sausage
Recipe for 1kg of meat
Venison, Class I, no connective tissue, no fat, 400g
Venison, Class II - III with connective tissue, no fat, 100g
Pork picnic and butt meat, Class I, lean and no connective tissue, 200g
Pork picnic and butt meat, Class II - III, with fat and some connective tissue, 200g
Pork back fat, 100g.
Salt, 17g
Cure #1, 2g
Pepper, finely ground, 5g
Coriander, 2g
Fresh garlic, 5g
Juniper berries 2g.
Nutmeg, 1g
100ml. water
Cube the venison and pork, keeping the Class I meats and Class II - III meats separate. Add the salt and #1 to the cubed meat, mix well, pack into a container, cover, and refrigerate for 48 hours.
Grind Class I venison and pork through 10mm plate and the Class II - III meat and fat through the 4.5 plate. Toast the peppercorns, coriander seeds and the juniper berries and grind finely. Combine all remaining ingredients and mix well, adding the water gradually as you mix. Stuff into 40mm hog casings. Set the sausage overnight in fridge or up to two hours at room temperature. Smoke for 3 hours at 130-150F (55-65C). Finish by poaching with water temp 170F (77C) until the internal temperature of the sausage reaches 155F (68C) Cool gently with water and hang at room temp for 3 hours before refrigerating. Sausage will taste best the next day.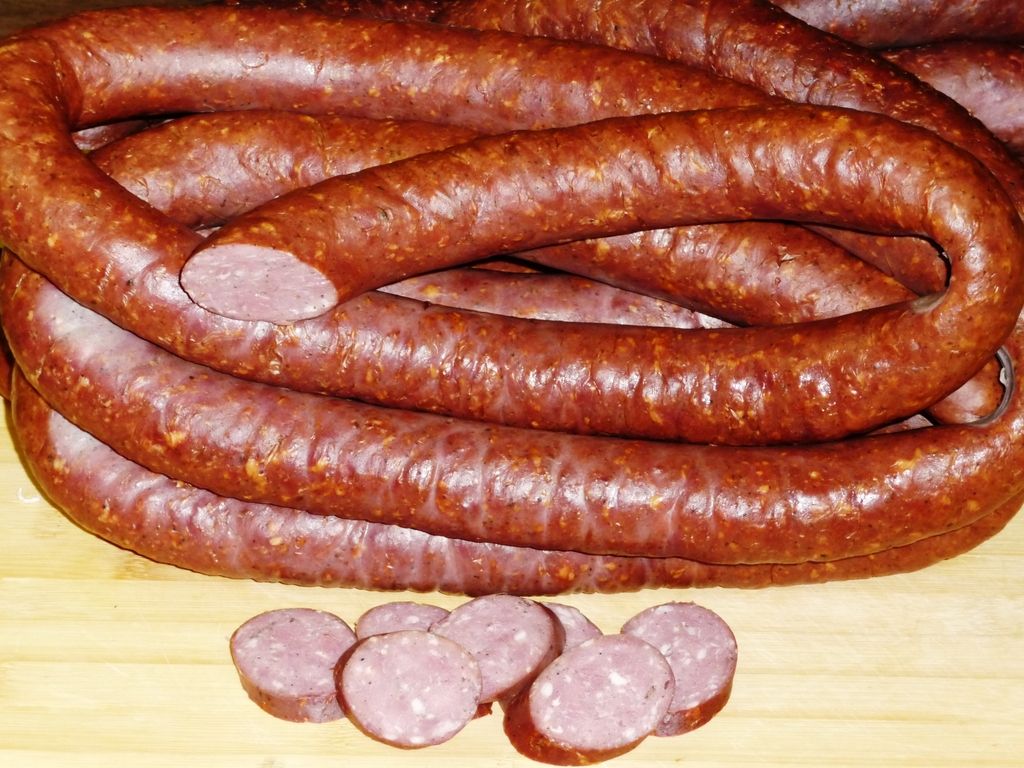 Liver Sausage
Recipe for 3kg.
700g pork liver
800g Pork Class I - II pork
500g Venison
500g pork belly
500g pork fat
1 large raw white onion
48g kosher salt
6g Cure #1
6g white pepper
6g marjoram
1.5g ground cloves
1.5 ginger
750ml broth
Soak liver for one hour in cold water, remove veins and poach for 10 min. Poach fat for 5 min. Cook the at a low boil for about 1 hour. Strain but reserve the broth. Cool everything to room temp. Chop the onion, add the broth and the spices, mix, and grind everything twice with a fine plate (I used a 3mm).
Mix well and stuff into what ever you like. I used 40+ hog casings so that the sausage can go on a cracker.
Poach in 185F(85C) water for 50 minutes. Cool in ice water and allow to rest for a few hours or overnight. Cold smoke for 2-3 hours.