So I decided to somewhat make Stefans kielbasa
viewtopic.php?p=42526#p42526
but since I didn't have the time to do it correctly I thought what the heck let me knock some more sense into the noggin. Knowing that his salt and cure content of 1.6% and 0.2% made perfect sense if I wanted it to be at a safe nitrite level for smoking, but I didn't have time to smoke things (or I just wanted to be lazy) I wasn't going to worry about nitrite. I decided needing a garlic sausage was more important than holding off.
I dropped the nitrite to 0.1% and upped the salt to 1.7%. I wanted to keep the 1.8% level but my reasoning was to see if the small amount of nitrite was detectable in the end product as I didn't want grey meat on purpose. To my surprise it was very evident,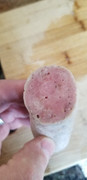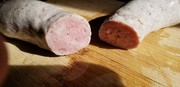 so for color 0.1% is sufficient. Less may be as well, but I haven't tried that and really have no need at this point. However since it is so ugly, I don't think I'll ever not smoke again. It makes such a difference. Simple poaching gives you a grey ugly outside skin on the meat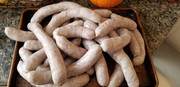 The good news is that it tastes delicious even without the smoke. The bad news is that curing the meat before the grind made it very sticky and since I was doing grinding and stuffing by myself I had a dickens of a time getting decent stuffing without gaps, lots of breaks because I used older casings and just really lumpy sausage. I let it age in reefer overnight, but on a tray, that malformed things even more. So to avoid flattening sections of the sausage I will hang from now on. I poached everything at 160-165F until the sausage was done.
SUMMARY - Not only will I make sure to make the time to smoke things...there's a reason! But I will also have to lock my equipment down so it doesn't move while stuffing or work with my buddy. All in all I have a tasty albeit ugly sausage, learned that very little cure #1 is needed for color, and was able to dial in a few other things on my process.