Moderator

Posts: 1930
Joined: Mon Mar 05, 2012 04:10
Location: South Georgia
My busy weekend was this one 3/5-3/7. It started off with 12 lbs of Mexican Chorizo, using Marianski's recipe:
https://www.meatsandsausages.com/sausag ... zo-mexican
but substituting homegrown Pequin peppers for the cayenne. I also ground everything through the 3/8 inch plate since most of the pork was Class II And III and I figured somewhat gnarly for the recommended 1/2 inch grind. The Class I was harvested for pork pies which will hopefully get done over the next week or so and will be posted in Hyde Park.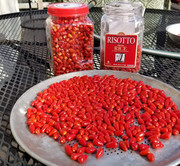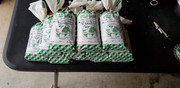 .
That rolled into Andouille, also Marianski's recipe...
https://www.meatsandsausages.com/sausag ... /andouille
with the substitution of the dried Pequin for cayenne again. I really liked this substitution in both sausages as I like spicy food but not necessarily ridiculous heat (i.e., ghost peppers and beyond). I was somewhat proud of my consistent links and my new room temp drying technique. Here they are hanging for two hours at room temp and after a three hour warm smoke over hickory...note they are still mostly raw internally so will be cooked for use: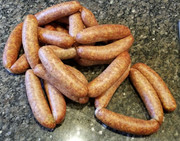 On Saturday I made Serbian sausage...I also followed Marianski
https://www.meatsandsausages.com/sausag ... sh/serbian
on this one as well. This was started about 12 days ago when I salted the fat...but here they are right off the smoker after 3 hours of warm oak smoke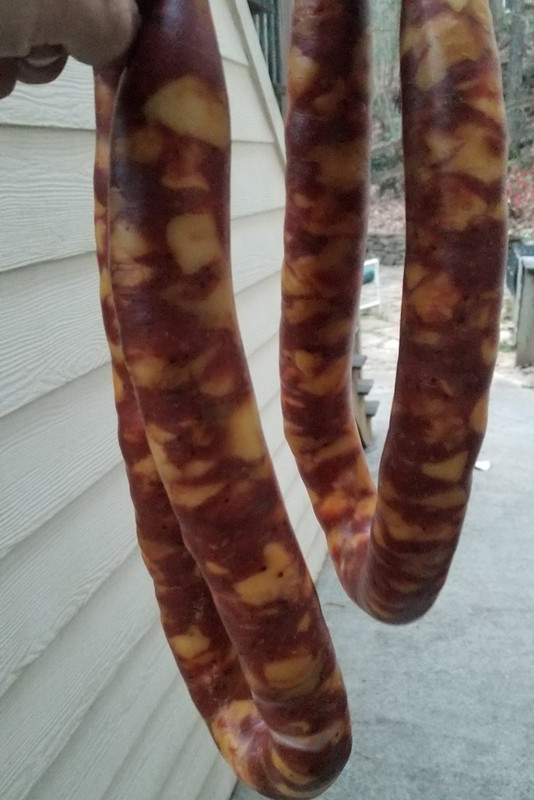 Finally this morning after my brother in law raved over the chorizo, we decided to make another 18 lbs. This time we ground through the 1/4 inch plate and added 100 grams of achiote paste. Still not as red as the Mexican stuff I can get locally but the achiote did not really alter the flavor in a negative way. We can't decide which is better the 3/8 or 1/4 inch grind. The 3/8 is great for such things where the chorizo is supposed to be noticed, e.g., in scrambled eggs but if you want to use it as an ingredient...say in tacos or part of your hamburger meat than 1/4 inch is the way to go.
Tired and enjoying a nice Lenten adult beverage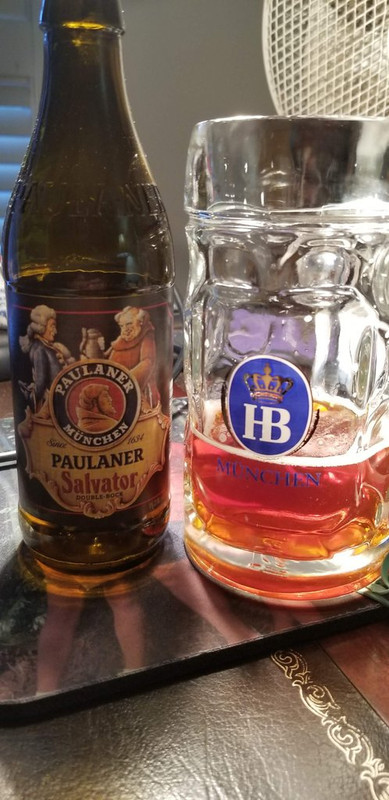 .
Happy
that I have a mess of ingredients stored up for the spring and summer months
Corned beef was done yesterday. Put it in the instant pot for 60 min then let it depressurize on its own and left over night. Rueben's for lunch today!
Deelish. Mine will be done later tonite
Mine comes out in three days...18 days all in. New recipe and much longer than I would otherwise do
Not at all, it is in my response to Lorenzoid
viewtopic.php?f=18&t=9353&p=44414&hilit ... oid#p44414
I had always wanted to test out the KosherDosher guy's recipes as he lives right there in NYC and seemed to really be pushing into some great ideas re: beef due to his religious ban against pork.
But I agree with Lorenzoid, that he may be doing a bit of overthinking.
Patience is not a strong point for me! I have been checking the large textured summer sausages and they seem very firm by squeezing. Moisture loss is only 20%. My friend tried these casings with a cooked salami and pealing the casing off was a disaster! I figured I would try the driest one and see. These have been drying for 7 weeks. It is a very "solid" texture. Likely from the "old Cow" lean beef I used. Very nice tang to it! these were fermented to 4.8.
Very nice on Wassa bread with some dill Havarti!
They look excellent, is the "purty" casing much harder to peel than the standard cylinder...I hate to lose the meat and be forced to nibble on the casing. But I guess the dog is happy as he does get more than his fair share of stuck cellulose and meat
That was my concern! When my friend did it he lost a good 3/8" all around! I cut the netting first then the casing just peeled off beautifully! Zero sticking.