This weekend I thought I'd make small batch of sausages for my 19-year old son & me. We're the only ones in our household of five who like spicy hot foods. Both of us have some dietary restrictions (we're both Type 1 diabetics, plus he has celiac) so finding 'store-bought hot links' that aren't overly loaded with salt, sugar, fat or even gluten is a real challenge.
So per his request & with his assistance, we made a five-pound batch of spicy hot links.
Here's the recipe. It's a modification off a variety of Poli's recipes, suited to fit our personal tastes and preferences.
Metric listed below first as I prefer weight versus volume for accuracy.
Hot Links
Pork Butt
1590g (3.0 lbs)
Beef Chuck
908g (2.0 lbs)
Kosher salt
44g
Non-Fat dry milk
40g (1/2 cup)
*I pulverized the NFDM in my spice grinder. makes it a very fine powder.
Sweet Paprika
15g (2.5 TBL)
Smoked Paprika
15g (2.5 TBL)
(if you REALLY want to make these burn, use 30g of Hot Paprika in place of the sweet & smoked)
Cayenne pepper
30g (4 TBL)
Onion powder
16g (2 TBL)
Mustard powder
14g (2 TBL)
Garlic powder
9.0g (1 TBL)
Brown sugar
20g (2 TBL)
Black pepper
6.0g (1 TBL)
Anise
* 6.0g (1 TBL)
(very prominent flavor, use less if desired)
Coriander
,
ground
4.0g (2 tsp)
Allspice
3.0g (1.5 tsp)
Cure#1
6g (one level tsp)
Red Tabasco Sauce
60 ml (4.0 TBL)
Ice water
8 fl oz (1/2 cup)
Pork & beef partially frozen. Cut into pieces that fit your grinder's feed chute.
First grind: Both meats through a medium plate (4.5mm). Dissolve cure in the ice water, along with the anise, coriander, allspice & black pepper.
Pour mixture into meat. Add the remainder of ingredients and mix well until a sticky meat paste results (about 10 minutes of hand-mixing). Regrind again through a FINE plate (3.0).
Stuff into 32-34mm casings. Twist off 4-6 inch lengths. Hang to dry while the smoker is being prepared. Pre-heat smoker to 130-140° and hang sausages in smoker. No smoke for the first hour. Add heavy smoke for the next 2-2.5 hours, increasing temps gradually over the same time up to 160°. Quit smoke. Raise temp in smoker up to 170° & continue to cook links until an IT of 160° OR pul the links after the smoke and put them in a hot water bath (165°) until the IT of 160° is reached (less than 30 minutes). Cool off in ice bath (the hot links, NOT you!). Pull links & hang to bloom. Refrigerate.
All the ingredients lined up...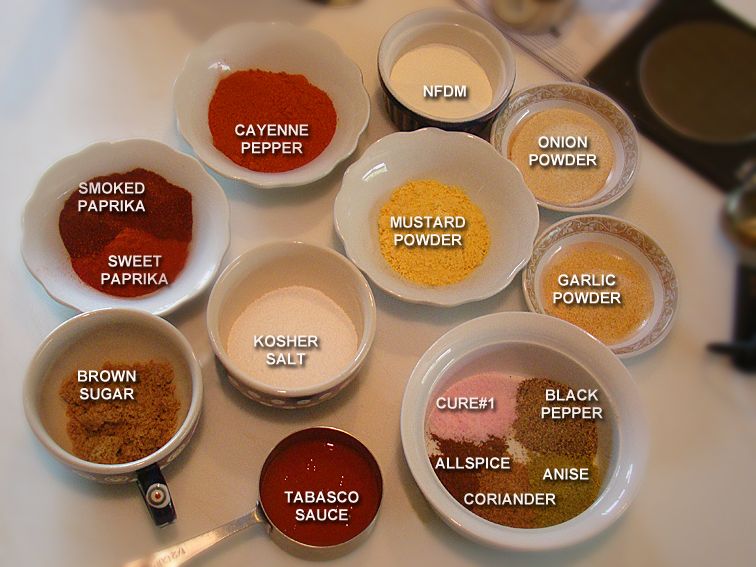 I used 3 pounds of pork butt and two pounds of beef chuck roast. Two grinds.
The first-a medium grind (4.5mm):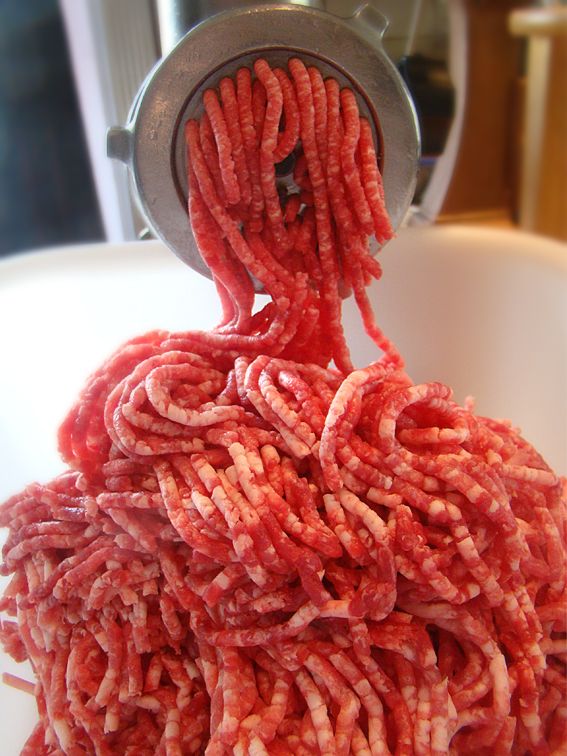 After mixing in all the ingredients, I put the batch through a fine grind (3.0mm). Then I used 34mm natural pork casings.
Made 14 good size (6-7") links...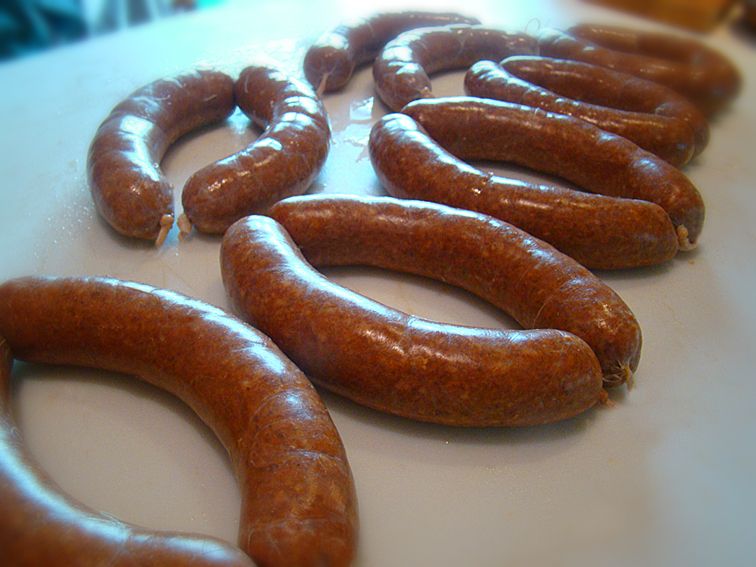 Got 'em hung in a pre-heated smoker (140°) with no smoke for the first hour: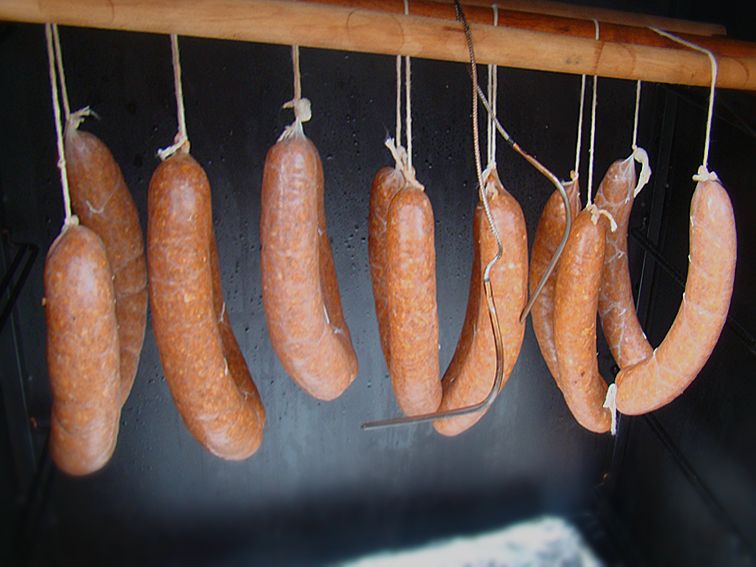 After two & a half hours of heavy smoke. Combo of hickory & cherry sawdust: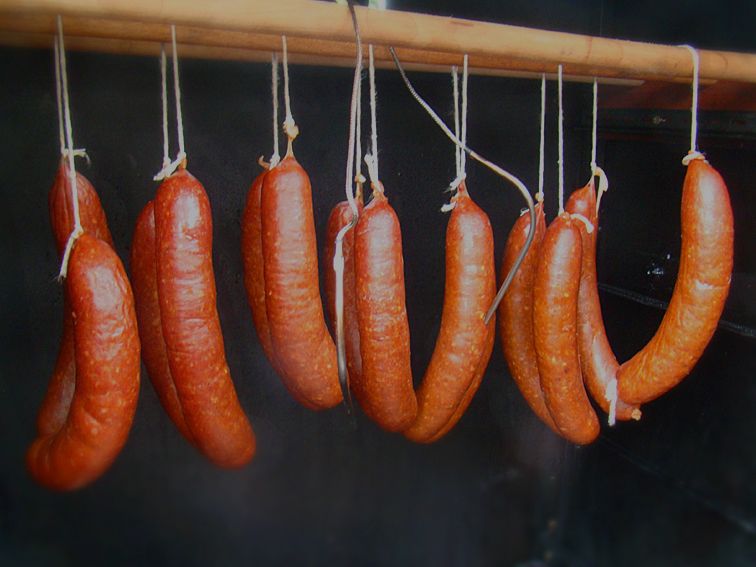 Plunge the batch into a hot bath (165°) to bring them up to an IT of 160° Took only about 20 minutes: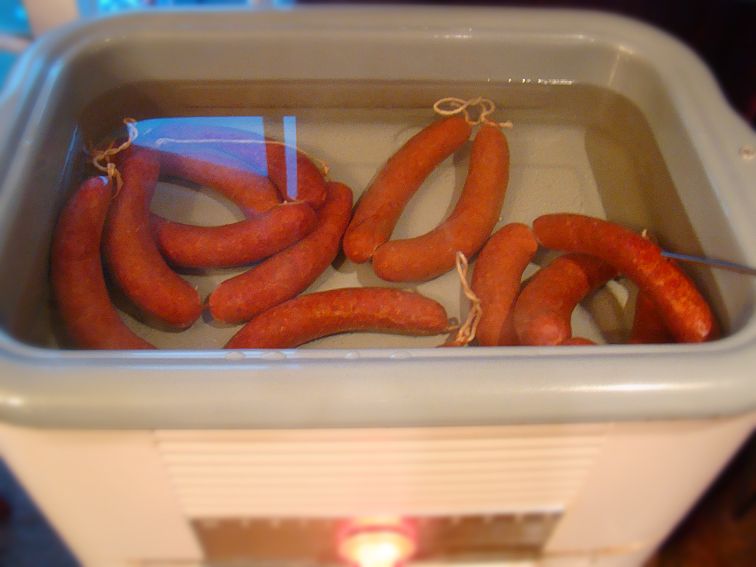 Quick-cooling in an ice bath afterwards: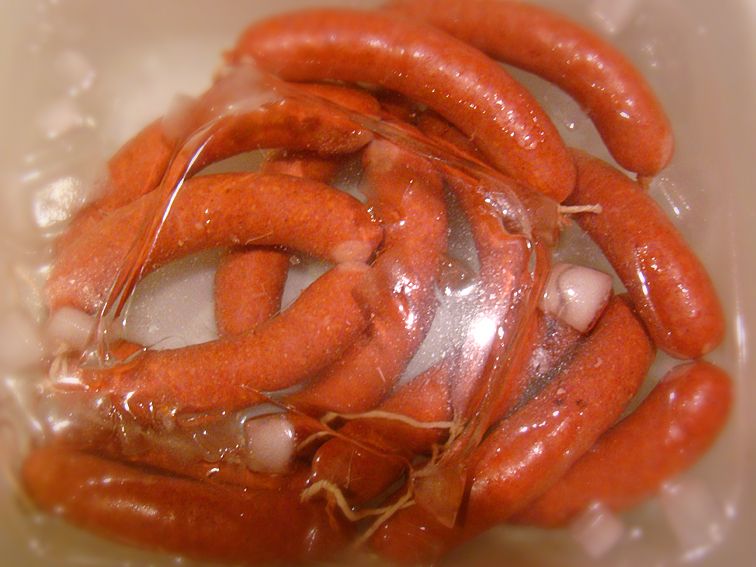 Bloom time: No wrinkling nor 'shrinkage' due to the poach. sometimes on long smokes in the smoker, some wrinkling of the links occurs. These guys remained juicy & plump!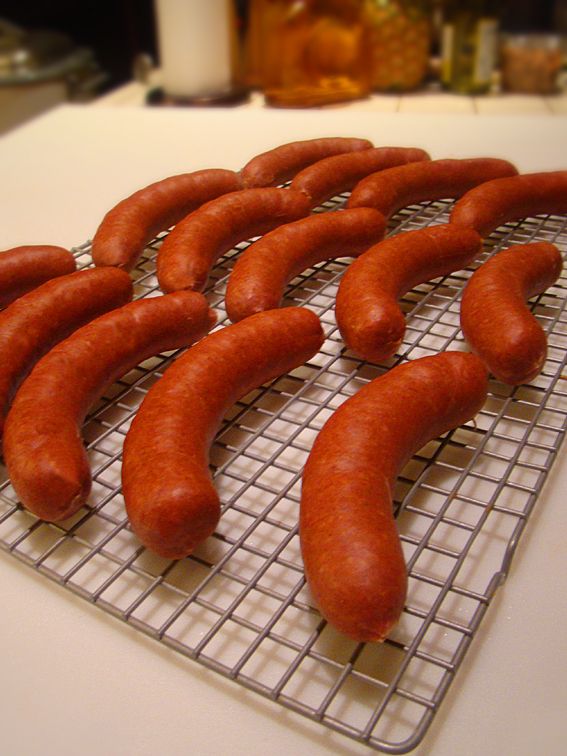 Taste time: Whoa! HOT!!...which is what we were going for! Slight anise-taste goes well with the vinegary 'pepperiness' of the tabasco. BIG afterburn....
My son gave them a big thumbs up! Definitely need a cool beverage alongside these bad boys!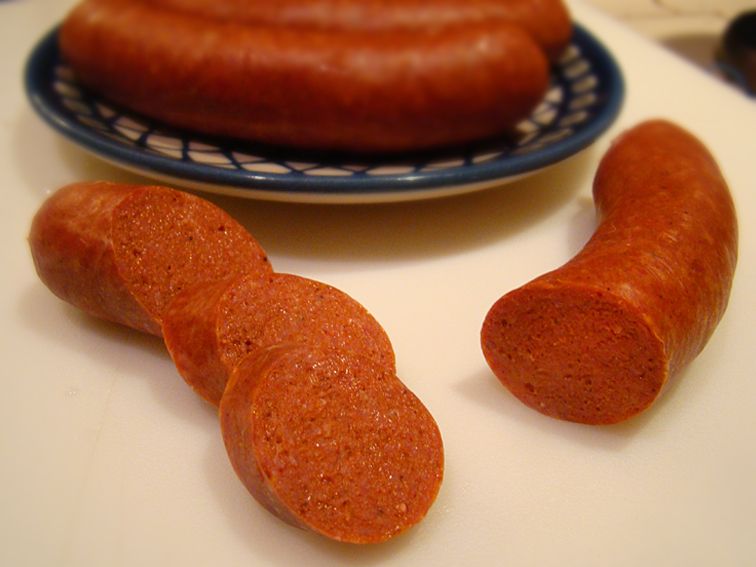 For my tastes, I found these to be plenty hot, but some folks REALLY take it to the next level. The hot paprika would certainly do that and/or using ghost pepper or habenero hot sauce in place of tabasco would accomplish this as well.
Thanks for looking!
-Kevin