After seeing Bob's post on cured pork loin, i decided to give it a try.
The recipe I used:
2.0% salt
0.5% sugar
0.25% cure #1
0.05% granular garlic
0.3% red pepper flakes
0.12% fennel seeds
5.0% fresh squeezed orange juice
Coarse ground black pepper to roll the loin in before smoking.
Equilibrium cured in a Zip-lock in the refrigerator for 2 weeks. Remove from Zip-lock and rinsed. Let sit on a rack in the refrigerator overnight to dry. Rolled the loin in cracked black pepper and stuffed it into a net; and then smoked with apple for 3 hours at 105 degrees F.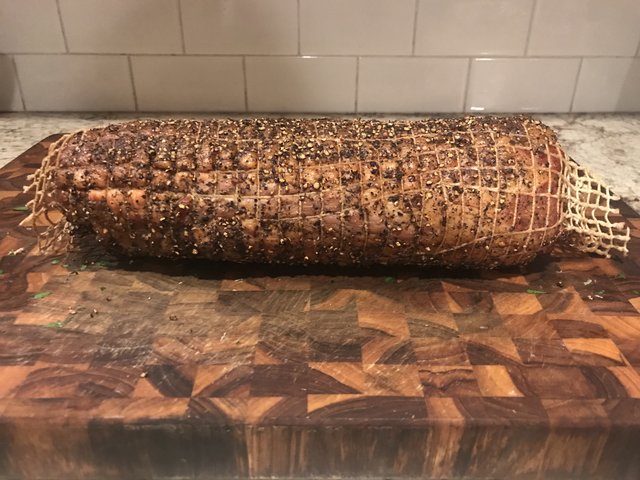 Just out of the smoker
I then souse vide for 3.25 hours at 145°f.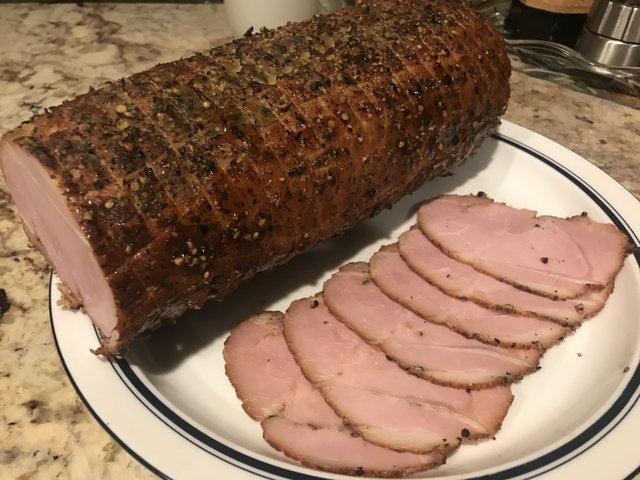 It was very tasty. I am going to try it again with pork tenderloin. The smaller diameter of the tenderloin will enable the smoke and pepper flavor to be more assertive. I am also going to try waiting to add the fennel and orange juice and place it in the sous vide bag along with the smoked loin.
I used orange juice instead of orange slices that Bob used. I have had trouble with the orange rind imparting a bitter flavor when making carnitas.
Thanks Bob, this is going to keep me busy for a while.