Salame di Sativa
Posted: Sat Jan 09, 2016 17:59
The nice thing about making salami is that it gives us an opportunity to be creative making sausages with flavours that we like and embark on discovering new ingredients and formulations. Sometimes we have to think outside of the box, like I did in making this salami. Medical marijuana is now readily available in Canada and the current government has announced its intention to legalize it for recreational use by the end of the year. Currently in Vancouver alone there are over 100 "dispensaries" selling it. You can buy it not only in dried form but also as oil, teas and in things like cookies, brownies and health bars. It's also becoming a popular cooking ingredient, so why not try it in a salami? For this particular recipe I selected a newly harvested aromatic variety with a distinct peppery nose. Seemed to be best suited for salami. Depending on how this experiment turns out, I might try other strains in the future. Not having enough experience with this particular ingredient in a fermented and dry cured sausage, I wavered on the amount of cannabis to use. I wanted to create something where it would serve as a seasoning and not something to make my friends high. Initially I was going use only 1g/kg, but after getting some advice, I settled on 2g/kg. That amount certainly did not disguise the marijuana in the salami, as the aroma comes through as it hangs in the fermentation chamber, and unless you eat a large amount you will not get high. But hey, with a glass of wine, some cheese and a few slices of Salame di Sativa, happy hour might never be the same! Final verdict will come in six weeks or so.
Salame di Sativa
Meats
Class I (lean with no connective tissue) pork from hind leg (green ham) 800g
Back fat 200g
Ingredients per 1000g (1 kg) of meat
Sea salt 25g
Cure#2 2.5g
Granulated garlic 2g
Black pepper coarsely ground 2g
Cannabis, ground and heat treated, 2g
Mace .5 g
Dextrose 4g*
Corn syrup solids 3g*
Erythorbate .5g
White wine 25ml
Bactoferm B-LC-007starter culture - 1g. (.22g per kg is the recommended amount, but it's better to use a bit more in a small batch. I used 1/2tsp for 3kg. of meat block)
*I used more sugar than I normally do since the starting pH was 6.12
Instructions
1. Cut lean meat into 3-4cm. cubes, and back fat into slightly smaller ones.
2. Add the sea salt, Cure#2 to the meat and fat and rest in fridge for 48 hours. Make sure that the meat and fat are covered well.
3. Rehydrate the starter culture in a small amount of water with a pinch of dextrose. Let stand for 20-30 minutes.
4. Semi-freeze meat before grinding. Keeping everything chilled grind the pork and fat with the 6mm. (1/4") plate.
5. Grind marijuana and bake in oven for 15-20 minutes at 275F. (Be warned that the kitchen will smell like a rock concert and a crowd might gather near the exhaust fan of your house.)
5. Add culture and the rest of the ingredients to the ground meat and mix thoroughly, but be careful not to overwork it to avoid fat smearing.
5. Stuff into natural or protein lined collagen casings.
6. Ferment at 20-22C and 90%+ RH until pH reads 5.3 or lower, but ideally not below 5.
7. Dry at 75-85% RH until weight drops by 35%
8. Surface starter optional but recommended.
Freshly stuffed into beef middles, with one into the Umai tube.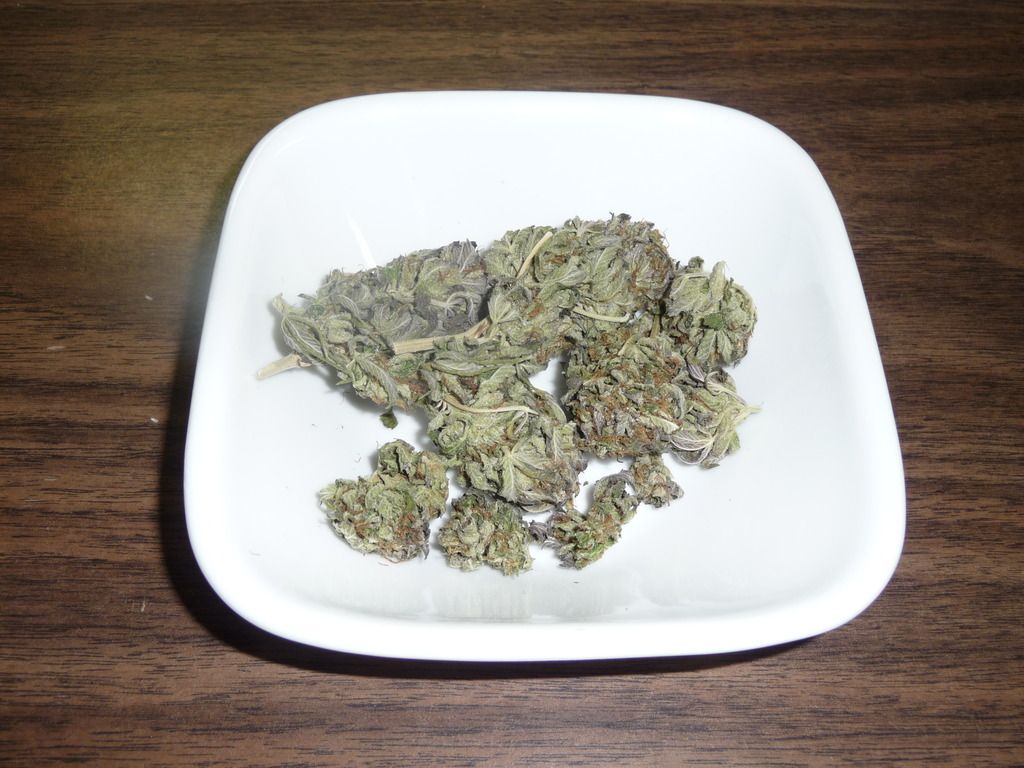 Some nice fresh bud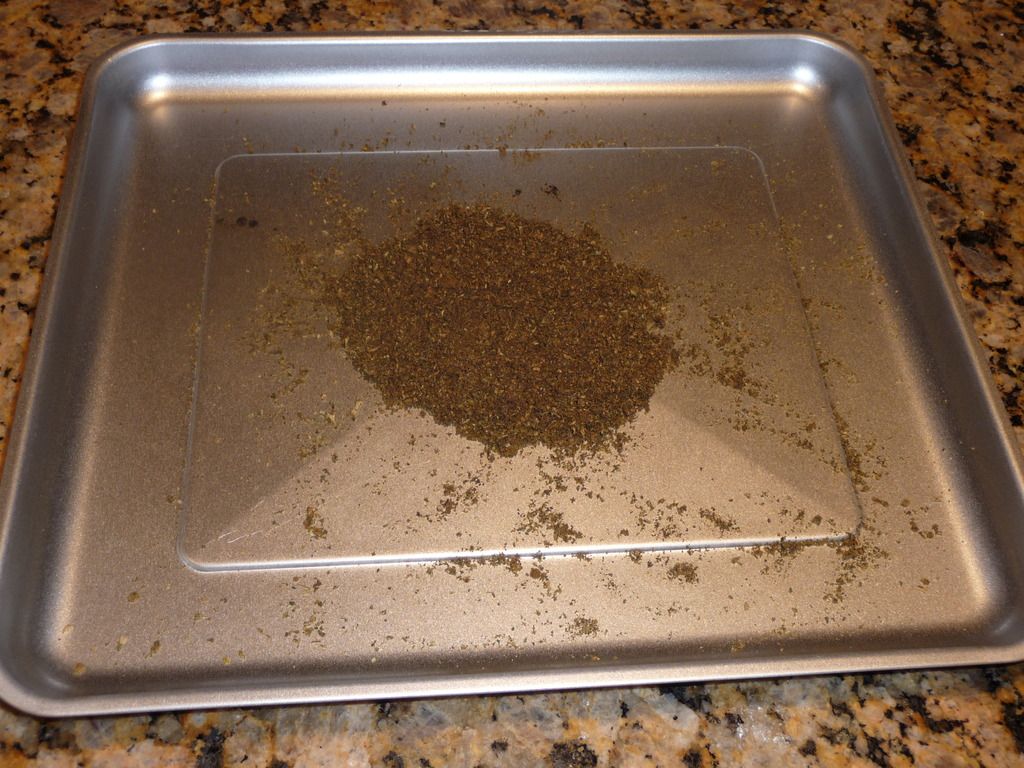 6g ground and toasted