Last weekend, I decided to make beef & pork franks. First time using sheep casings, too.
I'm made emulsified sausage before (bockwurst) as well so I had 'some' experience in the process.
ten pounds of pork and beef. I actually made a 5 pound batch of franks (80% beef, 20% pork) and saved the rest of the meat for another time.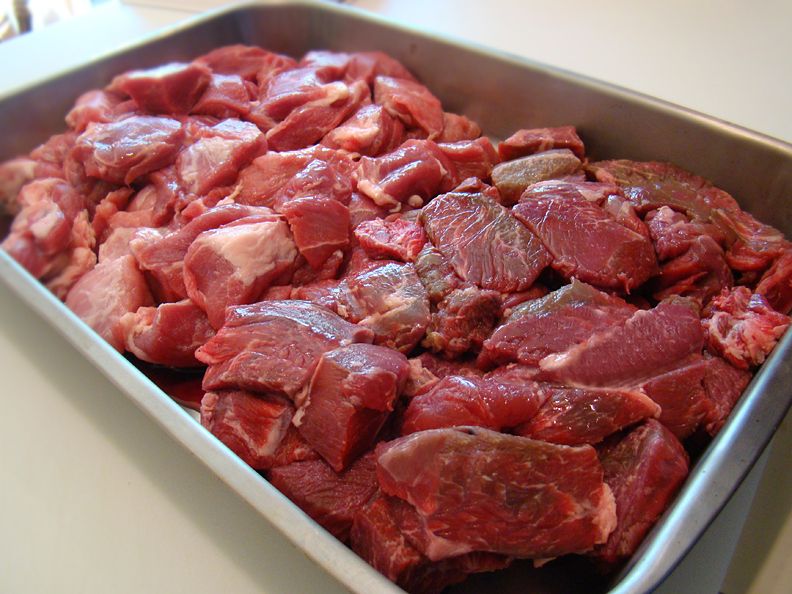 Got all the ingredients lined up. The frankfurter recipe is from the Rytek Kutas book.
I had an option to use either mace or coriander (I used mace), and either soy protein concentrate or nonfat dry milk (I used the dry milk).
Grind: I used my smallest plate (4.5mm), twice. I'm looking to get a finer (3mm) plate if i can find one: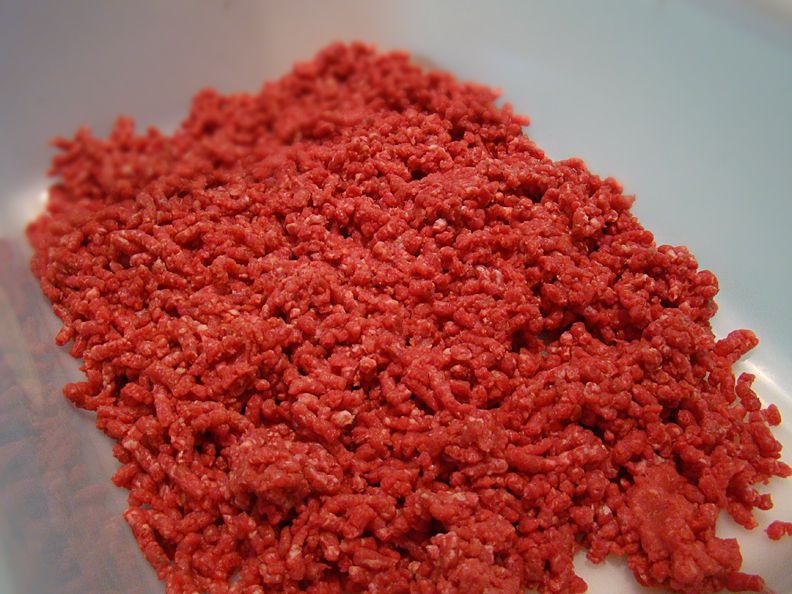 Mixed: mixed up for several minutes to create a nice sticky, thick meat paste: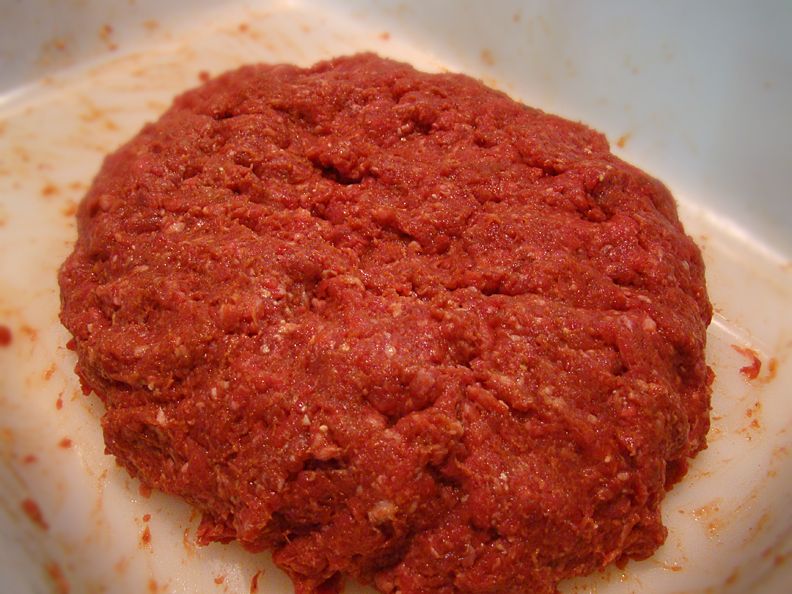 Next step was to emulsify the paste using a food processor.
WHOOPS! HERE's where I messed up. I wound up over-processing the load AND adding too much water in the process-a clear violation of #24 of
Chuckwagon's 32 Sausage Making Tip
s.
The end result was a bit 'runny'-not what I was attempting to achieve.
Undaunted, I then proceeded to stuff the 'mix' into 24mm casings. Casings were soaked overnight. I wound up with about 30 rather-soft franks...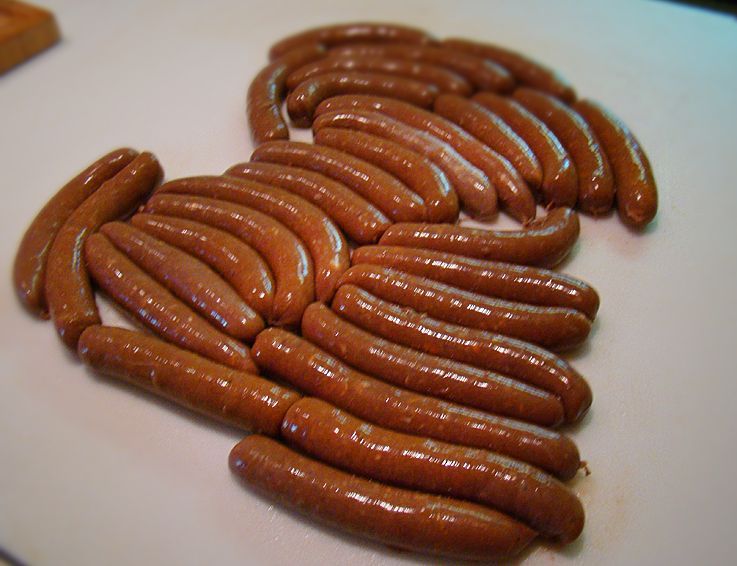 Got a new propane smoker (Father's day gift!) this weekend. Got it seasoned and ready to load up the franks for drying & smoking.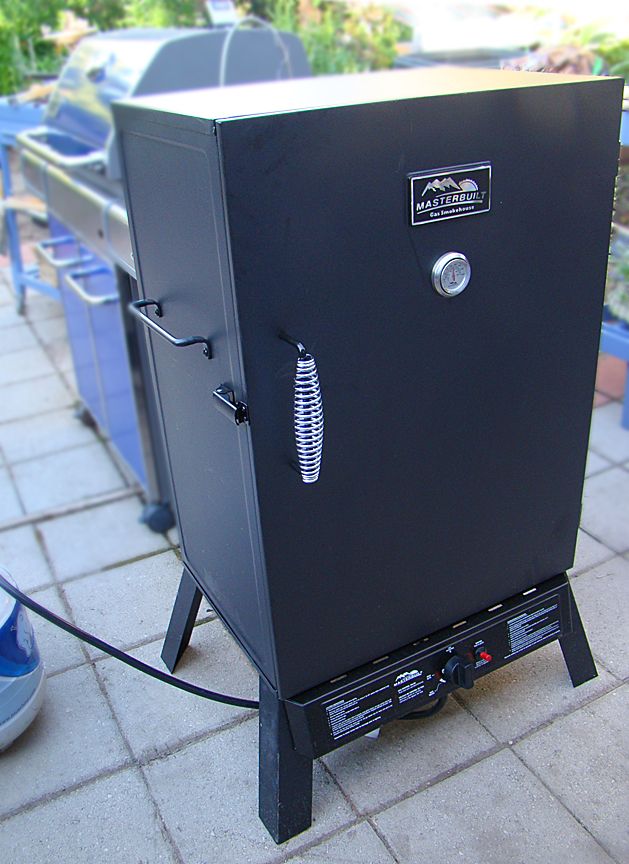 HERES' WHERE I MESSED UP AGAIN: I hung the franks to dry in the smoker (no smoke) at 135°. The recipe calls for at least an hour to dry out the franks before smoking. Unfortunately, I had no option and had to 'expedite' the process & began applying hickory smoke after about 30 minutes. Bad idea! Ninety minutes later, I pulled the franks for the smoker and plunged them into a hot water bath (160°) until the IT reached 153°
The GRIM RESULTS: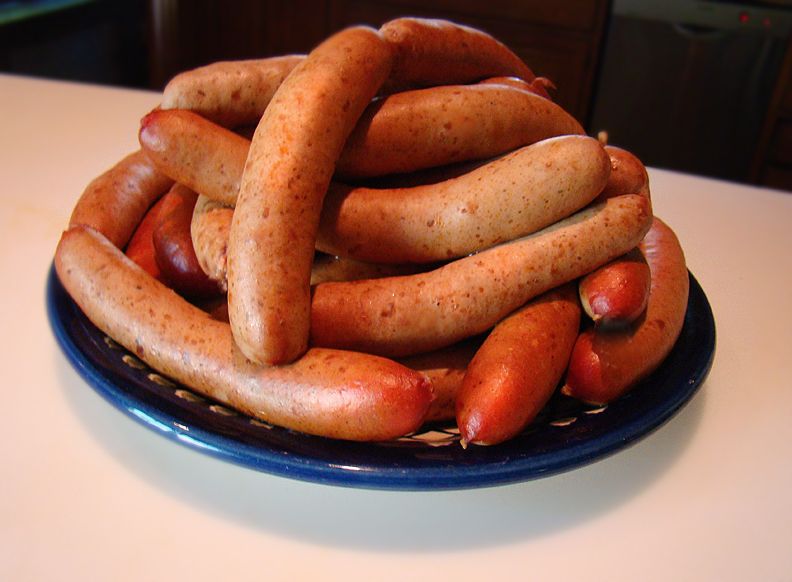 Rather sickly-looking franks that resemble a cross between old-fashioned franks & giant vienna sausages. The flavor? not bad, but need a bit more salt. The texture is........not good. Waaaay too mushy and the casings are too tough. Not a good 'frank'...
BUT....a good learning experience!
My takeaways:
- Keep a careful eye on the emulsifying process. With a big processor, it doesnt take long for your paste to become goo.
- Watch your water content. This recipe called for 1 cup ice water, but during the emulsifying process, I probably added another 8-12 ounces of ice & water. Bad idea.
- Firmly stuff the casings. Because the meat paste was loose, it didnt pack well and my franks were very soft. This softness could have contributed to the toughness of the casings in the final product
- DRY before applying SMOKE. Smoke doesn't adhere to wet surfaces. I knew that. But in my haste to finish before an unforeseen deadline, I thought I could cheat. Nope!
Fortunately its only a five-pound learning experience. i'll make these again & hopefully have better success!
- Kevin