Hungarian Csabaii
This renewed posting corrects my earlier one, quantity is now for 1 Kg meat. All ingredients are in grams, most scales have a choice of either....
This sausage takes its name from the village which many years ago made it famous. There is, in October each year a festival, celebrating its uniqueness, culminating in the crowning of the "Csabai King", who is the winner of the best sausage made in a space of two hours, with meat supplied by the organisers.
It is a great tasting sausage, both grilled as fresh, or smoked and used in sandwiches or as an ingredient in dishes.
The Recipe;
1 kg Pork - 80/20 meat/fat
14g Salt
25g Garlic - fresh, pressed and covered with water for 2 hrs
16g Sweet Hungarian Paprika
5 g Hot Hungarian Paprika
2.5g Whole Caraway
5g Icing sugar
2g Prague # 1 - if smoking
Freeze the fat. Cube the meat and spread a single layer on the bench. Spread all ingredients on top, covering the whole surface. Mix together until the red colour develops. Cover in a bowl and refrigerate overnight. Grind together all ingredients with coarse plate, mix well and stuff into hog casing, 350mm/14" double links for smoking, 150mm/6" for fresh. Both should be hung in fridge for three days before freezing/smoking.
It is suggested that a patty is fried prior to stuffing to correct/modify for personal preference, bearing in mind that the original taste is a combination mainly of garlic, paprika and caraway. The hot version will require more of the hot paprika, should not be overbearing, but have a "bite".
A shot of Pálinka ( a type of schnapps made from fruit ) will lubricate the hands and the mind, easy two hours of your time, perhaps punctuated by song.......
The ingredients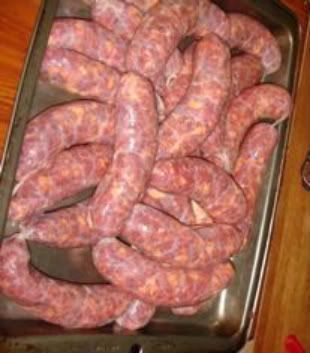 Stuffed into hog casing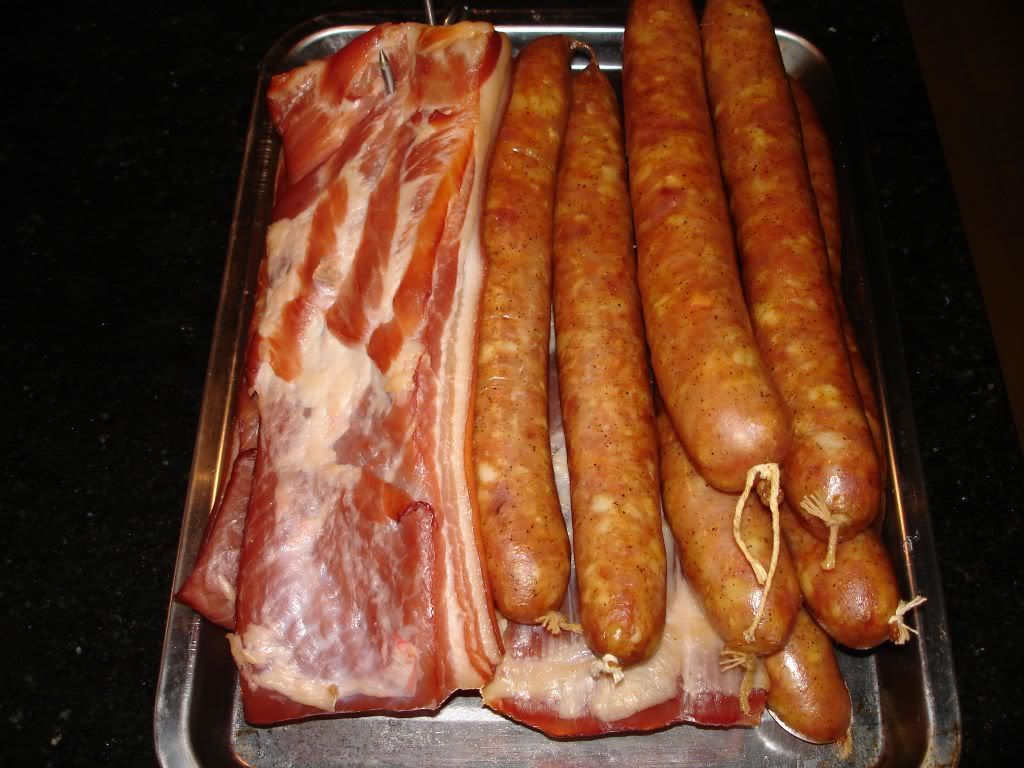 At the time, was smoking some belly bacon. For those wanting a try at some good old European flavours, with a family connection, I recommend this sausage.
Thanks for looking !