Finally got to try my new Chinese bowl chopper. Not exactly what I imagined it would be. First of all it's a bit under powered and when you are working with a 5l bowl you soon learn that it's not a high capacity machine. I prepared 5kg of meat and had to process it in three different batches. On top of that it's extremely messy as it throws out chunks of meat and fat at the start and then you have to stop the machine a couple of times during the emulsification process and scrape off the meat that gets stuck to the underside of the cover. I thought I would document everything and take pictures of the different processing steps but my hands were soon covered with meat paste and I had to work fast since it is important to keep the temp down. And this Chinese creation comes only with one speed for the knife rotation (1400rpm) and a single speed of the bowl rotation. Heck of a lot of cleaning after I finished the sausage. Fortunately the bowl and cover are removable, and I have a large sink for washing. But it took me a long time to clean the knives. Ideally, in commercial setting you could clean it with water pressure, something that is not possible for me. Took me half a day to clean the equipment, wash all the lugs and bowls and the floor! In the end I spent two days making 5kg (11bs) of sausage.

I made a traditional Bavarian weisswurst, substituting veal with turkey leg meat. The whole process did not go that smoothly. To begin with, I am totally inexperienced with using bowl choppers, making this session a baptism with fire. But in the end, the sausage turned out fantastic as far as the texture and taste goes. It's mildly seasoned yet delicious, juicy with a delicate and fluffy texture. So good you can feed it to a baby! I was a bit surprised at the end result since I intended to process the meat longer and get a more loose and moist mass. But I used up the amount of water and had to stop when the temp reached 14C (57F). Most emulsified sausage recipes call for the addition of 10-15% water and the Germans go as high as 20% and that is the amount I went with. I also chose not to use any phosphates or binders, but next time I will use some soy protein isolate which can bind 5 parts of water. The turkey meat was a good choice since it absorbed the water quite well and the combination with pork produced a pleasant flavour. In all my previous sausage making efforts, the turkey/pork combination always resulted in a great tasting sausage and this time it was no different.
While reading and studying the recipe, I recommend that you listen to a rendition of the
Weisswurst Polka
https://www.youtube.com/watch?v=cvCA7VGrHZI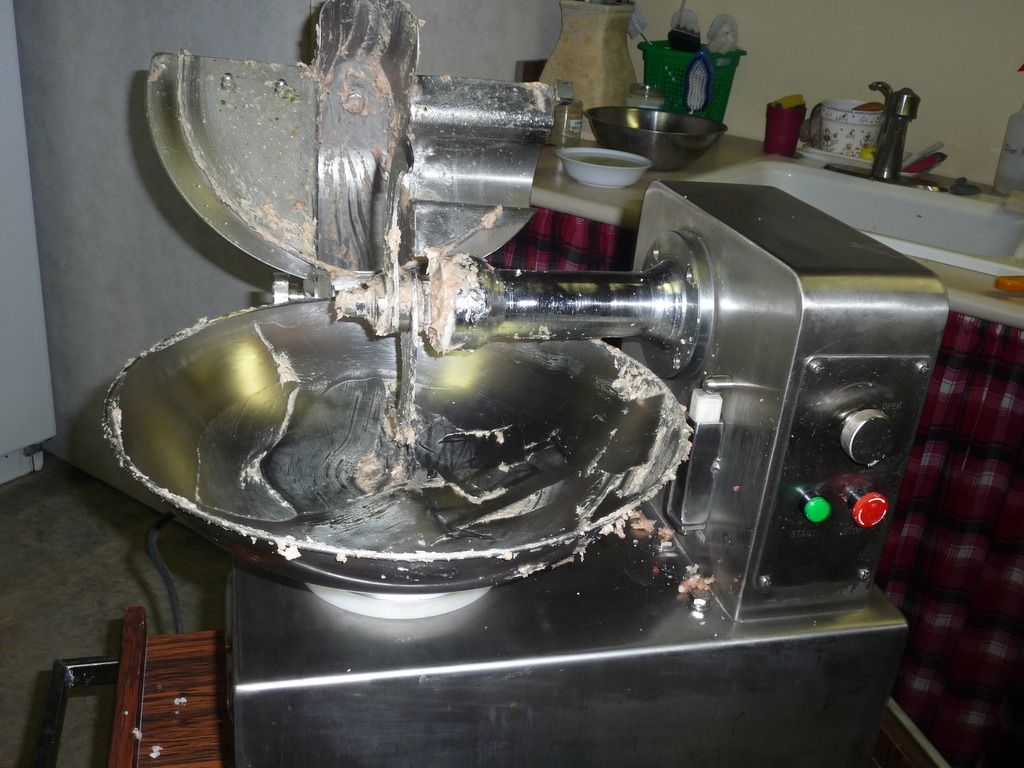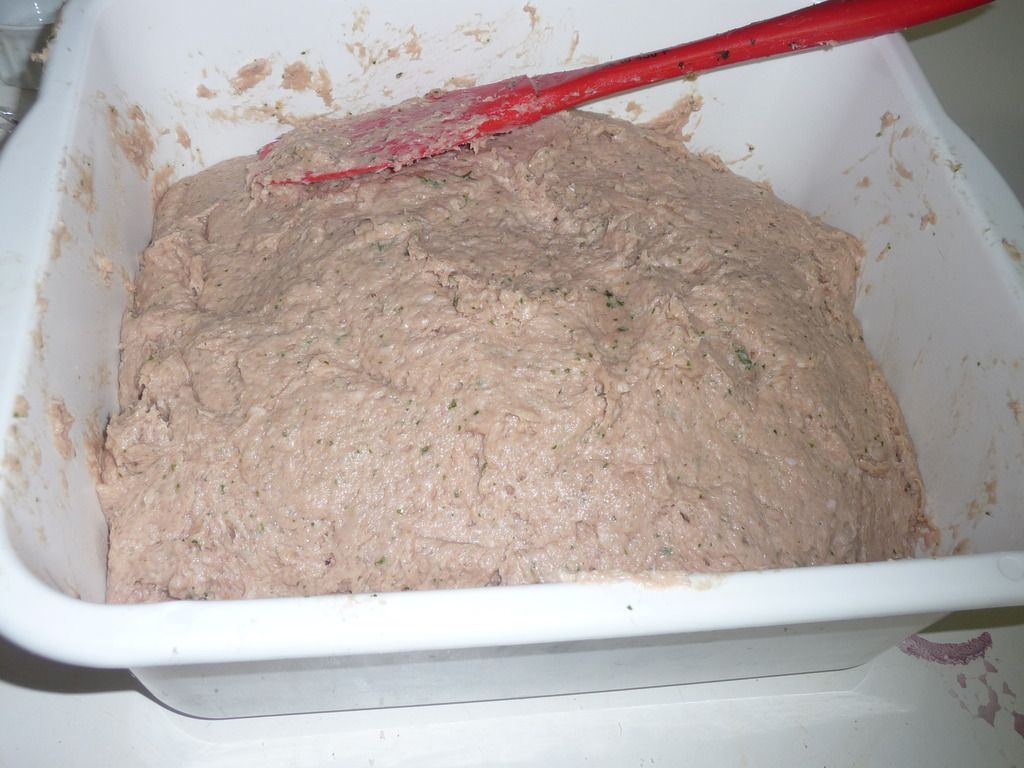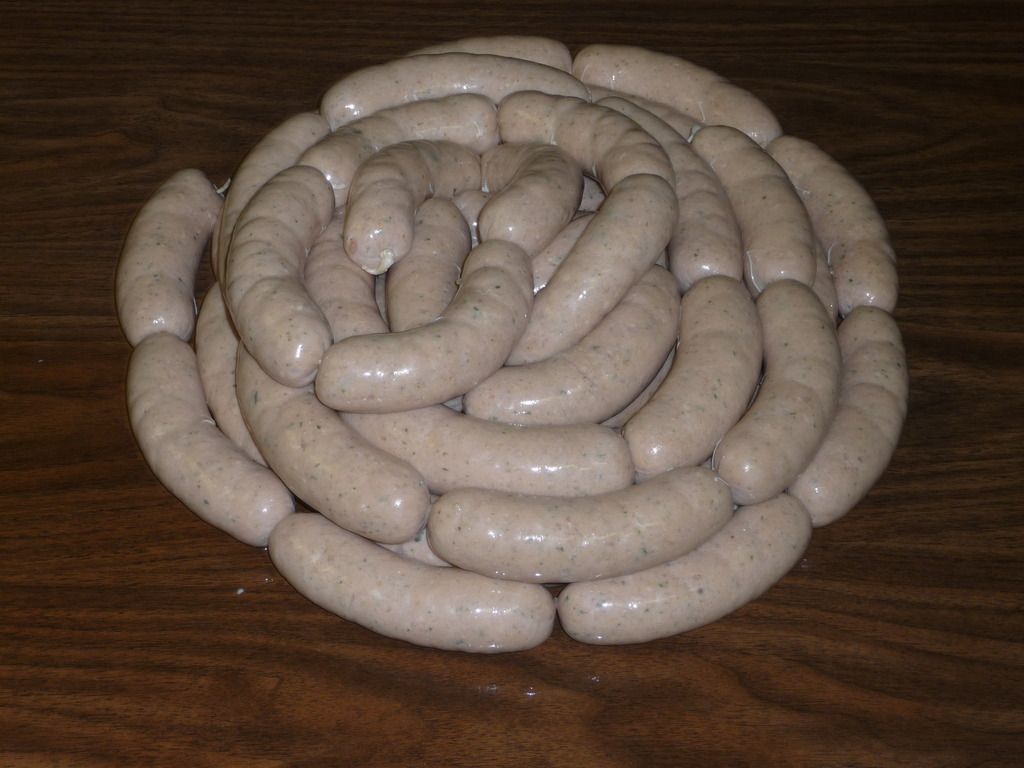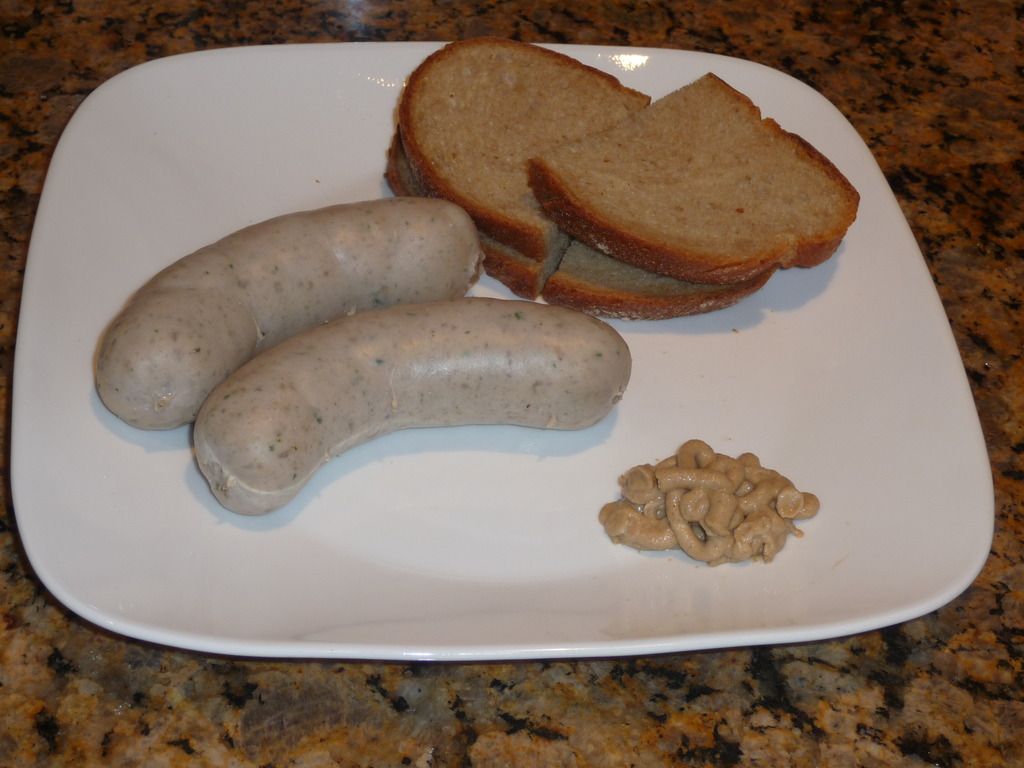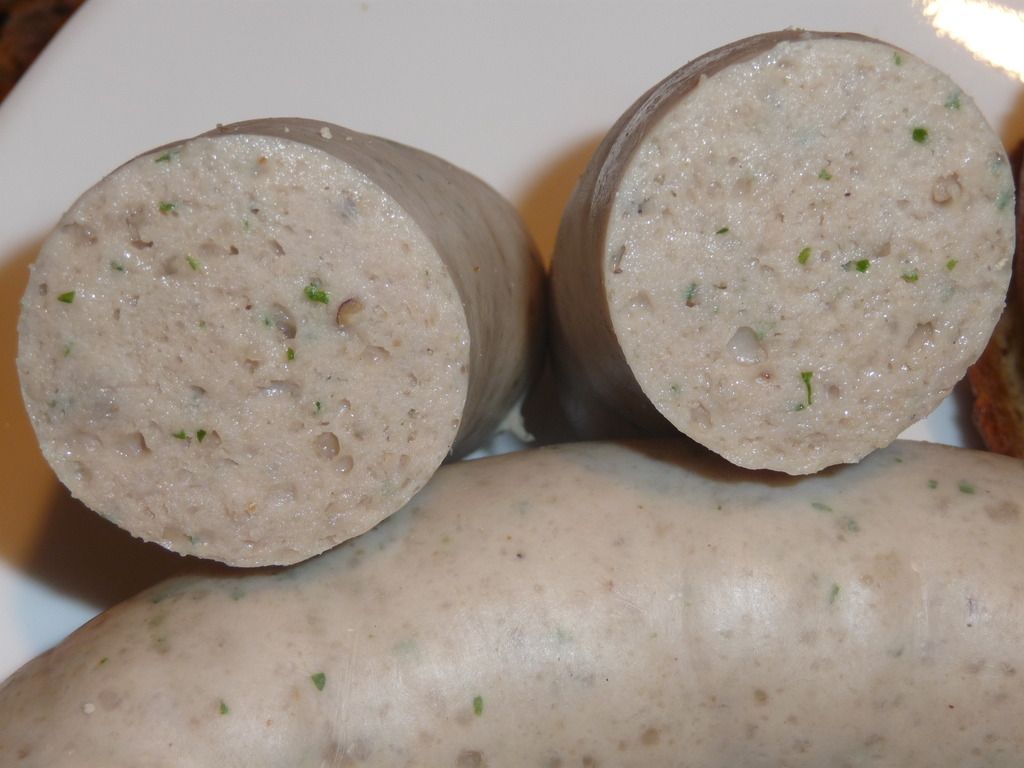 Turkey Weisswurst Recipe
Meats
Turkey leg meat (no skin or connective tissue) 600g
Lean pork 100g
Fat pork 50g
Boiled pork skins 100g
Pork back fat 150g
Ingredients per 1000g (1 kg) of meat
Salt 20 g
White pepper 3 g
Mace 3 g
Ginger powder 2g
Parsley, fresh chopped 7g
Lemon zest, grated and dried 3g
Lemon extract 2 drops
Raw white onion, diced 75g
Iced water 200ml (or preferably finely crushed ice 200g)
Instructions
1. Boil skins for approximately 30 minutes or until soft and not chewy.
2. Grind semi frozen meat, fat, skins and onion, keeping the meats and fats separate, through a 3mm plate. Return everything into the freezer until the temp of the meat is below freezing.
3. Chop the turkey meat, adding the salt and 50% of the water/ice, until temp reaches 6C(43F), add the lean and fat pork and 25% of the water and chop, again watching that the temp does not exceed 6C. Finally add the fat and skins, spices and the rest of the water and chop/emulsify until temp reaches 14C(57F)
4. Stuff the emulsified meat into 32-38mm casings and twist off into 12cm links. Allow the sausage to set in the fridge overnight, or a minimum of 3 hours. Poach at a temp of 80C(176F), until IT reaches 74C(165F). Because this is a poultry product, we need to take it to a higher temp. If making weisswurst from veal and pork, and IT of 66C(150F) would be adequate. Sausages can be kept in the fridge for a few days or frozen. To consume, gently reheat in water, but do not boil! Or grill them for a few minutes, just to slightly brown an heat thoroughly.
5. Serve with a fine German mustard and pour yourself a beer! Weisswurst is always eaten with the skin off. If you don't know how to eat weisswurst, here is a quick tutorial.
https://www.youtube.com/watch?v=sJLC-kqfKqg