I've been itching to try out my new Kirby emulsifier blade that came with his mixer so decided to try Chuckwagon's Hobble Creek beef franks (
http://www.wedlinydomowe.pl/en/viewtopic.php?t=5079
) recipe (with a few modifications).
I had some lean bull elk meat left in the freezer so decided to use it, thus the name for this sausage venture. Here's the recipe:
Lean elk meat: 4.25 lbs with beef fat added: 0.75 lbs, total of 5 lbs or 2.268 Kg
To above, add the following: Percent Wt. in gm or cc
Ice water (as in really, really cold) 10.00% 226.8 cc
Non-Fat dry milk powder 3.00% 68.0 g
Trehalose (since I plan to freeze the hot dogs) 2.50% 56.7 g
Kosher salt 1.94% 44.0 g
Dextrose (if not using Trehalose, increase to 0.8%) 0.30% 6.8 g
Yellow mustard, powder 0.61% 13.8 g
Paprika, sweet (I used Hungarian) 0.56% 12.7 g
Butcher-Packer special meat binder (phosphates) 0.50% 11.3 g
Cure #1 0.26% 6.0 g
MSG (Accent) 0.24% 5.4 g
Garlic, powder 0.12% 2.7 g
Coriander, powder 0.12% 2.7 g
Liquid smoke (I only use the one from Sausage Maker) 0.11% 2.5 cc
Celery seed, ground 0.083% 1.9 g
Sodium erythorbate 0.080% 1.8 g
Pepper, white, ground 0.053% 1.2 g
Pepper, black, ground 0.046% 1.0 g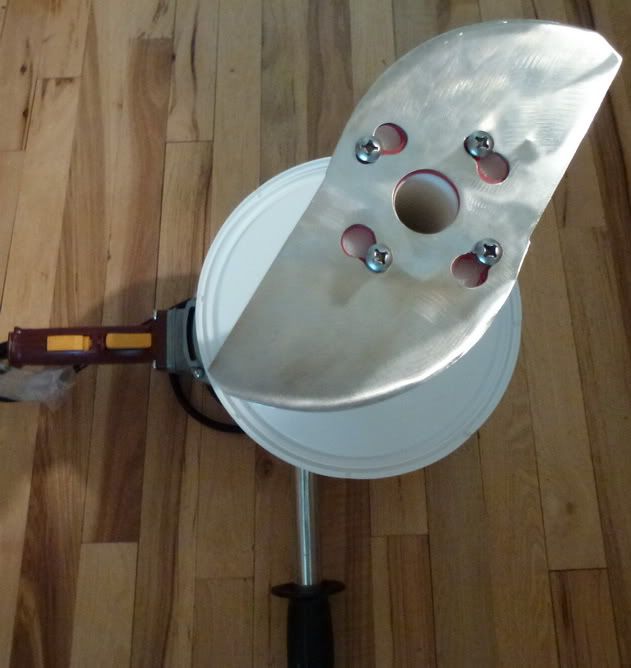 Here's a look at Kirby's stainless steel emulsifier blade which replaces the standard nylon mixer blade.
Here I have the ground elk and beef fat with all dry ingredients added. I will add the liquid smoke and ice water after I quickly hand mix the dry ingredients into the ground meat before adding to the mixer/emulsifier bucket.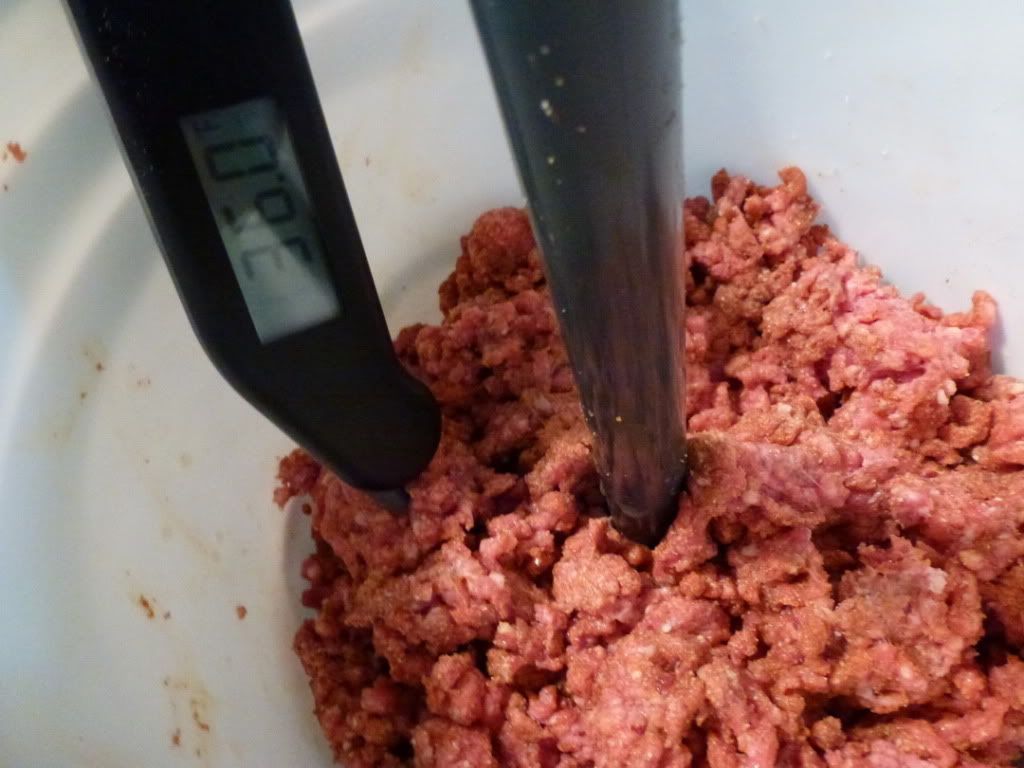 Thermapen shows temperature at 36° F right before emulsifying.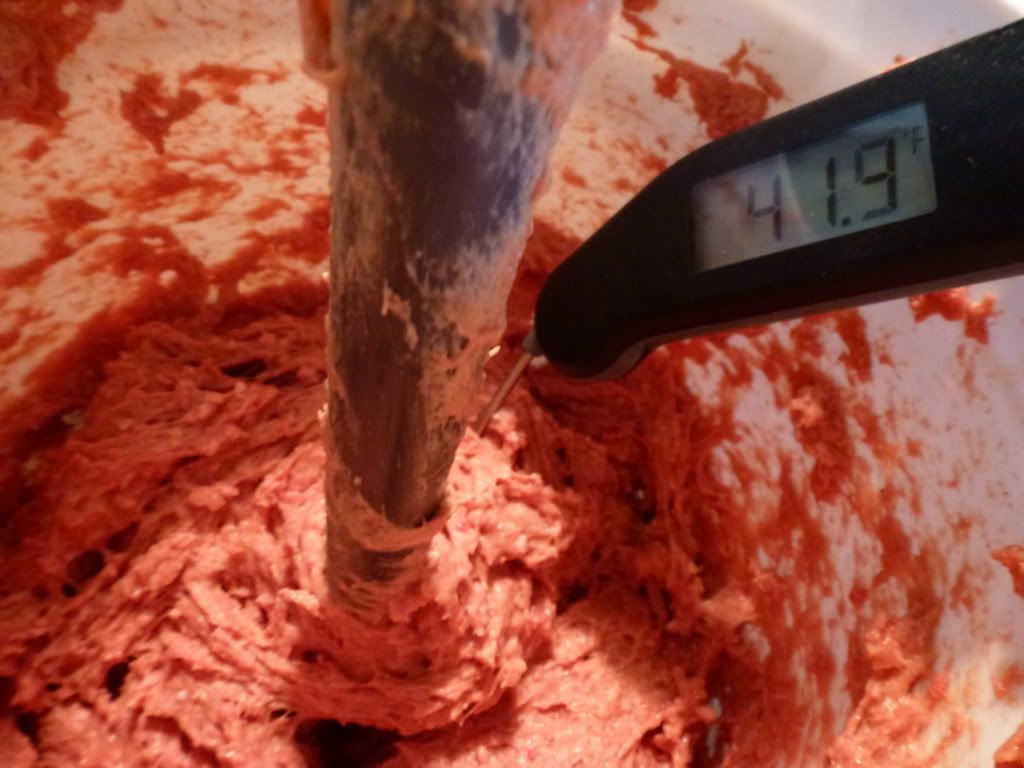 I ran the drill which powers the emsulsifier at high speed (1700 rpm) for about 45 seconds and then checked the results. The texture looked about right to me and the Thermapen showed a mear 5.9° rise in temperature. Not bad.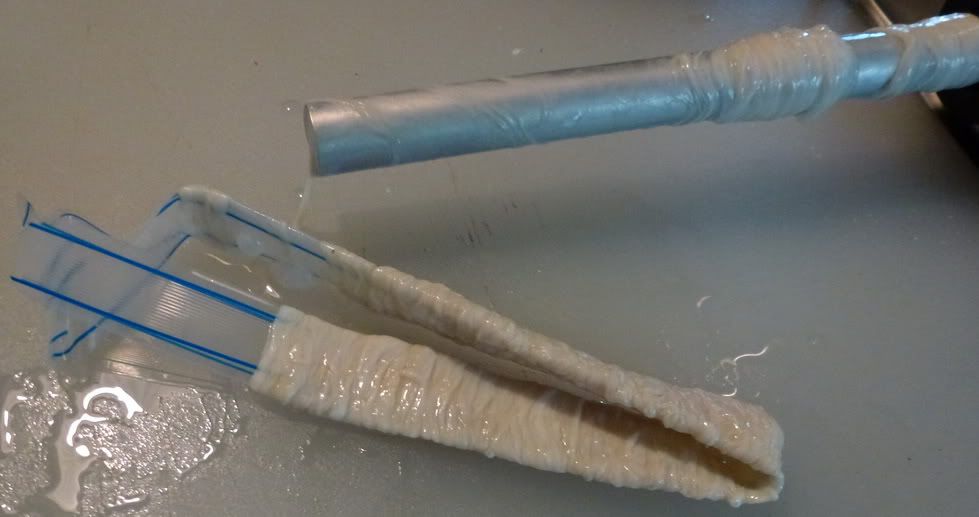 I had rinsed and then soaked some 20-22mm sheep casings in cool water. Having these small diameter casings on a tube makes loading them onto the stuffer tube much easier.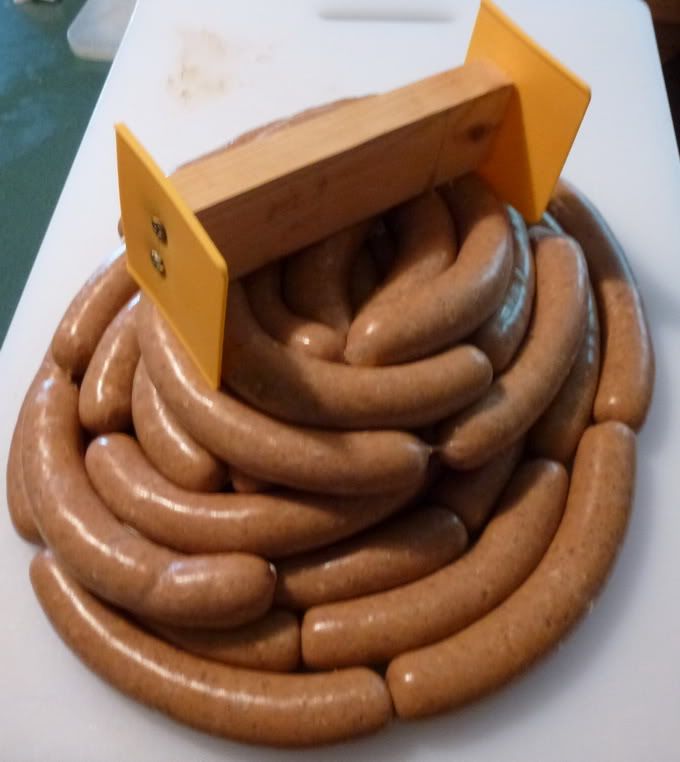 Showing my homemade link spacing thingamajig. I made it to help keep the link lengths somewhat the same length. I simply place the yellow plastic fins on the unlinked sausage and press gently which leaves nice creases that can then be squeezed with the fingers and twisted. Anyway, it works well and I use it for both franks and landjaegers. Spacing between fins is 6-1/4".
Smoke started after the dogs hang in the smoker without smoke at 120° F for an hour to dry out the casings. Temperature then gradually increased to 165° over about 5 hours. I had pecan smoke going for 4 hours during that time using the wonderful A-MAZE-N-PELLET-SMOKER(AMNPS). I thought I only loaded 2 to 3 hours worth of pellets but it turned out smoking for 4 hours before I decided that was enough smoke. Final internal meat temp was 150° F.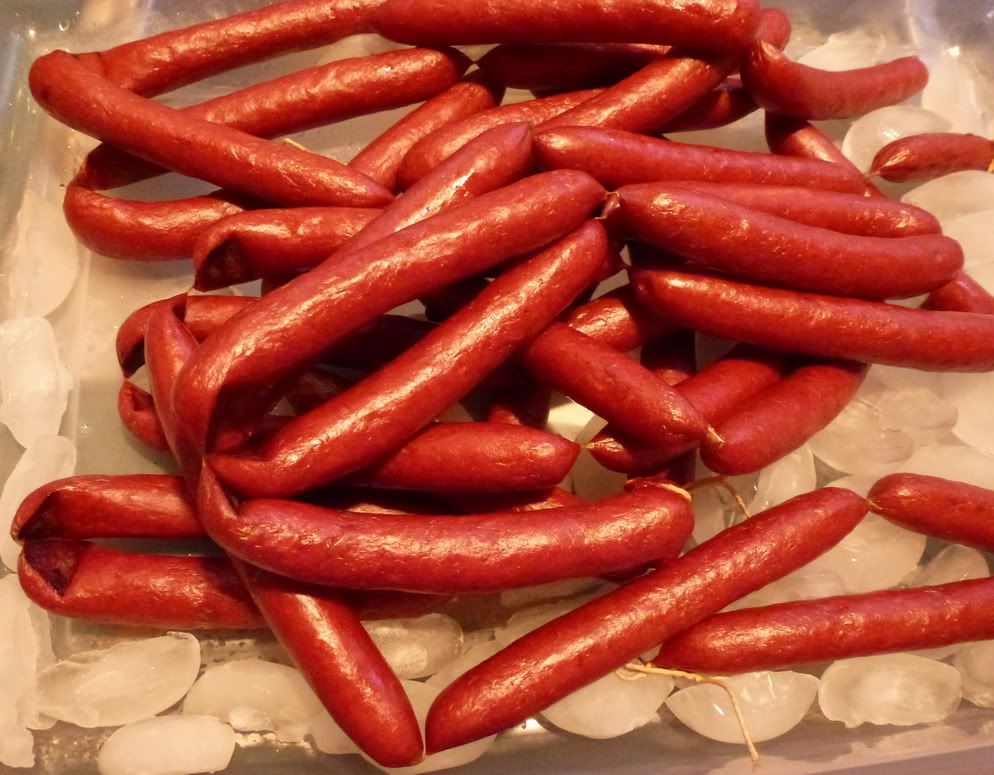 Fresh out of the smoker and ready for an ice bath until thoroughly cooled. Then allowed to bloom for a little over an hour at room temperature before hitting the fridge overnight.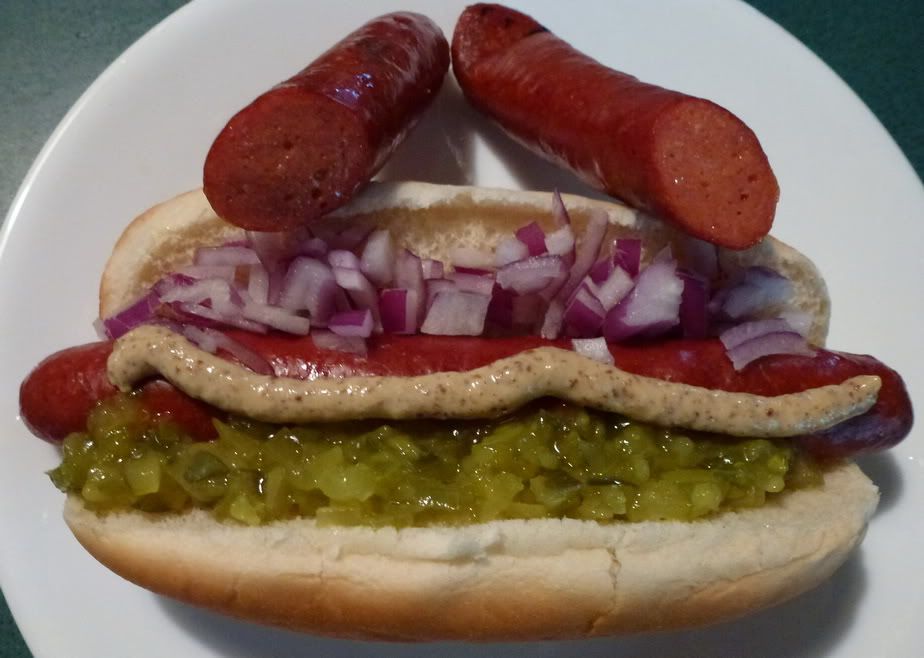 Good eats! I must say these turned out the best franks to date. They remind me of the great hot dogs I used to get back in NJ as a kid many years ago. The natural casings have that great snap to them which skinless dogs will never have. I like them best when poached in water. The 4 hours of smoke did not overpower them at all. Chuckwagon, thanks for providing a great recipe that I modified a bit to meet my desires. Your spice combo and amounts are spot on.
Addendum: The next time I will increase the ice water to 12% and use a bit more fat in the meat mix (maybe 20-22%). Also, I will only keep the links in the smoker at 120° F while the smoke is going and then move the links to my homemade sous vide poacher to finish them in hot water. I think this will make the franks a bit juicier and plump.