I prepared two smaller beef tongues based on the recipe posted by Maxell here:
http://wedlinydomowe.pl/wedzonki/inne-w ... y-gotowany
The tongues are first brined then poached, cased and cold smoked.
Prepare brine:
2 litres water
200g salt
50g sugar
3 tbs Cure # 1
2tbs whole coriander
2tbs whole black pepper
dozen juniper berries
2 large bay leaves
1tsp. all spice
Bring all the ingredients, except the Cure #1, to a boil and turn off heat. Let cool to room temp, strain and place clear brine in fridge to cool. When brine cools to 40F, add the cure and dissolve thoroughly, pump the tongues to 10% of weight.
Brine in fridge for 14 days (up to 21 if large tongues). Remove from brine and soak in cold water for 2 hours, changing water frequently. Wash with warm water 30 - 40C.
Poach for 2 to 3 hours at a temp of 190 - 200F. Remove skin while still warm. Straighten, press and shape tongues in fridge for a few hours.
Trim to a uniform shape as much as possible and stuff into beef middles. If the tounges are large, beef bungs may be used. Scald the cased tongues in boiling water for one minute. This shrinks the casing around the tongue.
Hang to dry for 2 to 3 hours.
Cold smoke tongues for 10-12 hours.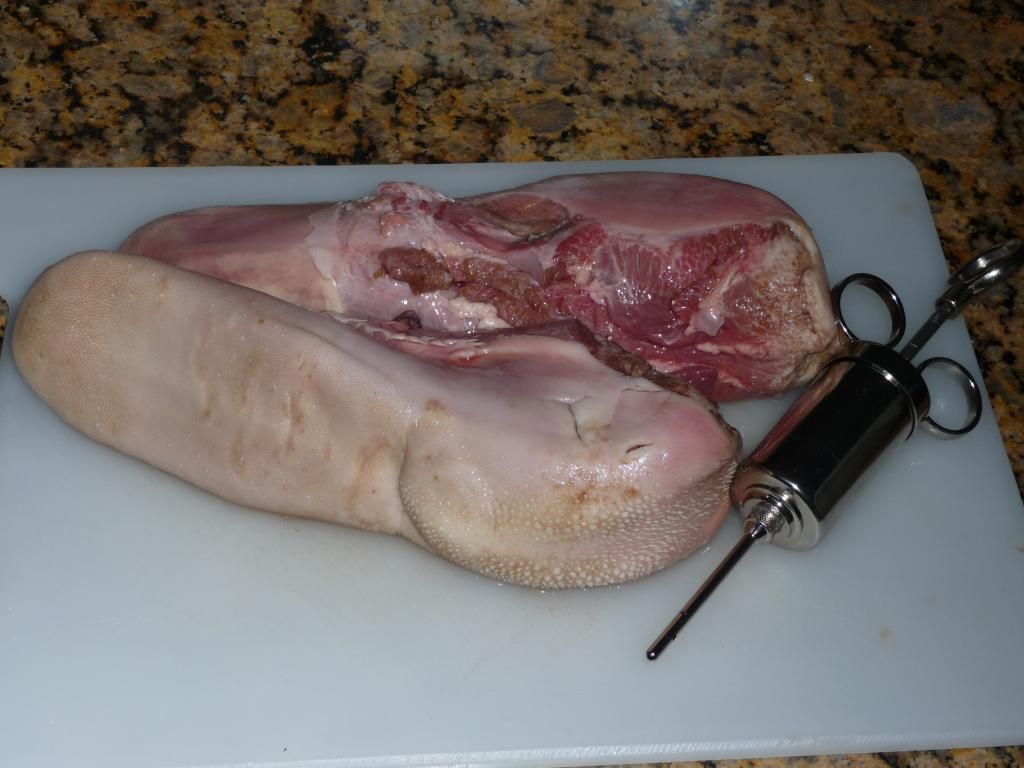 Wash and scrub tongues throughly. Soak in a mild salt solution overnight, then in fresh water for a couple of water.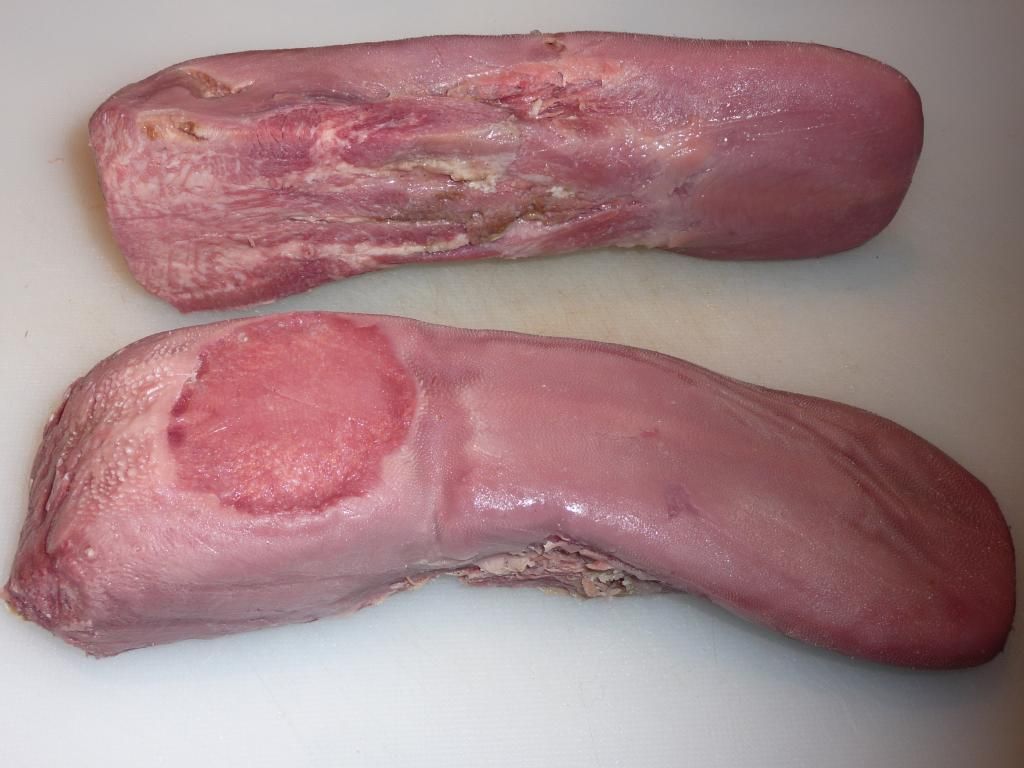 Tongues have been brined, chilled, shaped and trimmed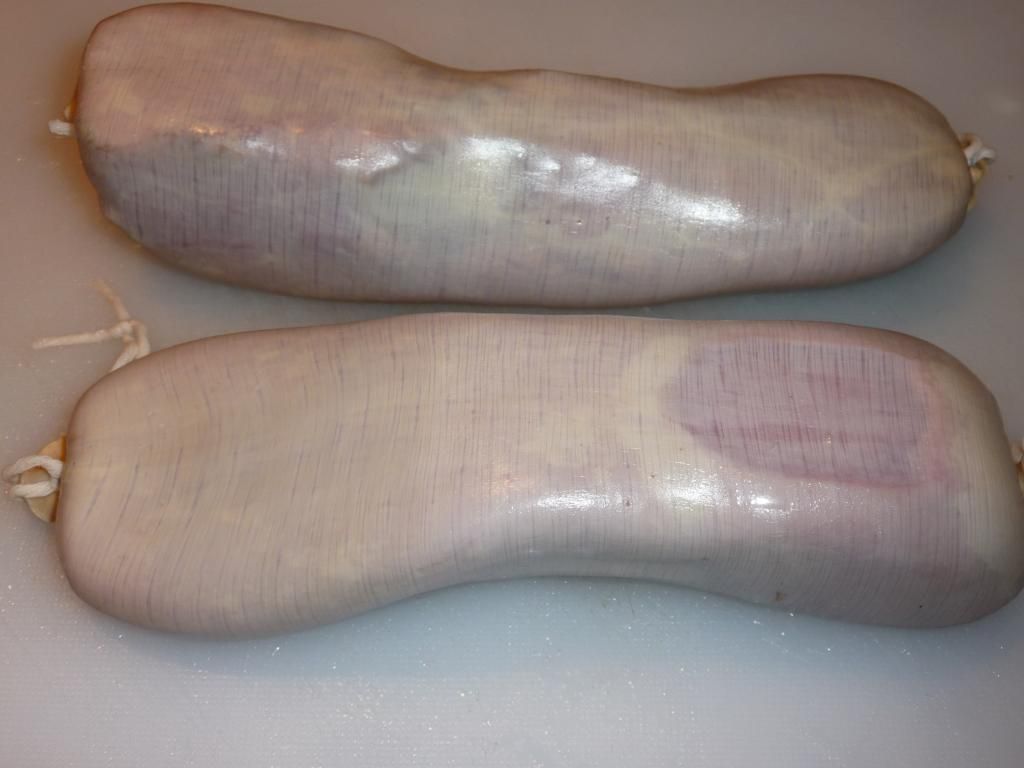 Cased, dried and ready for smoker!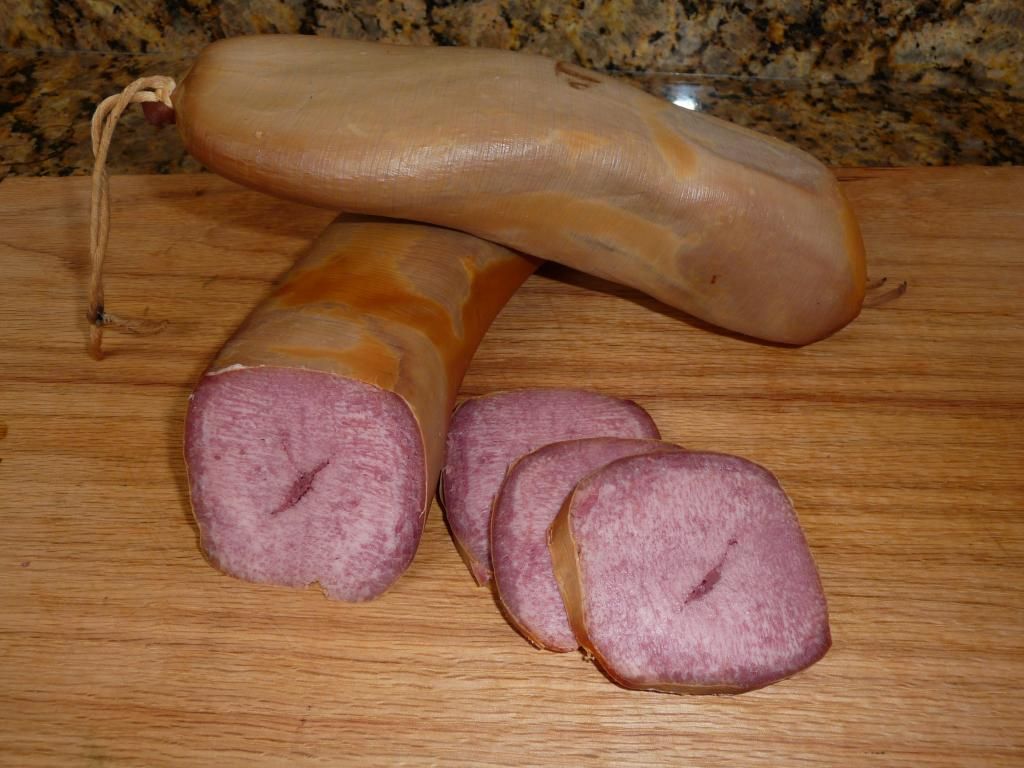 Smoked, rested and ready. Get the horseradish!
Verdict? Smoky and mild flavour, soft fatty texture, almost like biting into a piece of butter. Tasty and interesting, although I expected it to be better. Tomorrow I will slice it thinly, heat and prepare like a Montreal Smoked Meat sandwich.