I picked up ten pounds of lean top round recently. After chilling them well to near frozen, I sliced the lot into approximately 1/8-1/4" wide strips-depending on how distracted I was during the slicing.
I decided to make two flavors-a basic black pepper jerky (my son's favorite), and teriyaki.
Here are the recipes I followed. You can use regular soy sauce. We're a gluten-free household so the GF soy sauce ($$) is what I used.
Basic Black Pepper Jerky Marinade
for 5lbs meat
8 oz Gluten-free Soy Sauce
2 oz Worcestershire sauce
2 Tbl Fresh coarse-ground black pepper (Tellicherry preferred)
1 Tbl Garlic powder (or 3 fresh garlic cloves, finely chopped)
1 tsp Cayenne (optional)
1 tsp (lvl) Cure#1
1 tsp Liquid Smoke (I didn't use this as I plan on smoking the beef)
Teriyaki Jerky Marinade
for 5lbs meat
10 oz Gluten-free Soy sauce
4 oz Worcestershire sauce
2 Tbl chopped garlic
2 tsp fresh black pepper
8 oz Dark Brown sugar
2 tsp fresh chopped Ginger
3 finely-chopped Scallions (white & green parts)
2 tsp -1 Tbl Sesame oil (potent, so use to taste)
1 tsp (lvl) Cure#1
I mixed in the meat in two bowls with the ingredients, and bagged them in zip-loc freezer bags. Squeezed out the excess air and these will both reside in my fridge for the next two days. Then it's off to the smoker with them on Monday.
After almost two days of marinade, time to hang the meats pieces for the smoker. Using the tried & true wooden toothpick method, I managed to get all 10 pound onto a single rack. This was my preference (vs multi-rack) in order to get a consistent temp for the duration.
Hanging for the first hour or so with no smoke @ 150°F to dry off the excess moisture before applying smoke.
Using a maple/hickory blend of dust, I applied light smoke for the next 3-4 hours.
Here's a shot about 2 hours into the smoke application...
After nearly 5 hours @ 150-160°F I did a test-pull and the jerky looked & felt just about right. I stuck a temp probe into one of the thicker slices & it hit an IT of 152°F. Time to pull!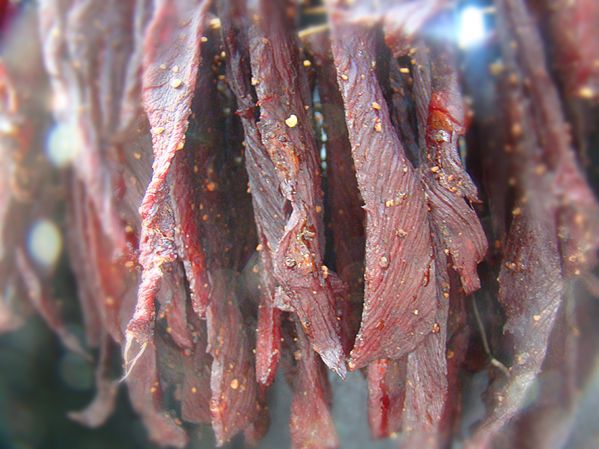 Good color & texture. Tens pounds of beef yielded just a bit over 5 pounds of jerky.
Here's samples side by side...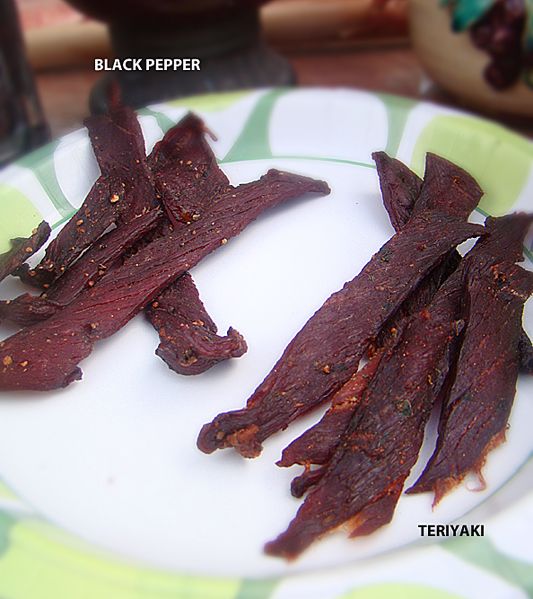 The teriyaki jerky has a touch of garlicky sweetness (almost a tang) & just the right amount of saltiness...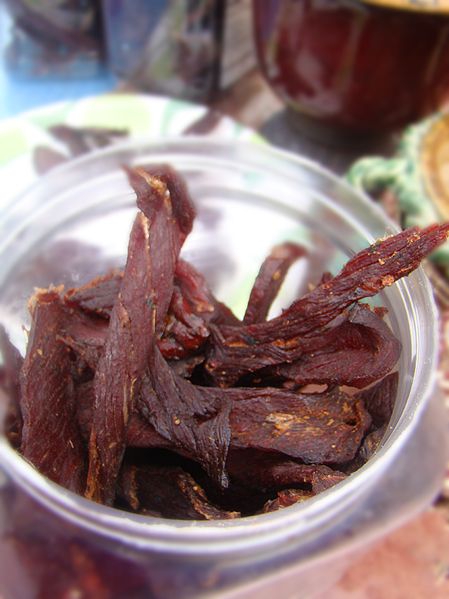 The black pepper jerky has a great 'basic' jerky flavor, with a bit of heat provided by the coarse-ground peppercorns...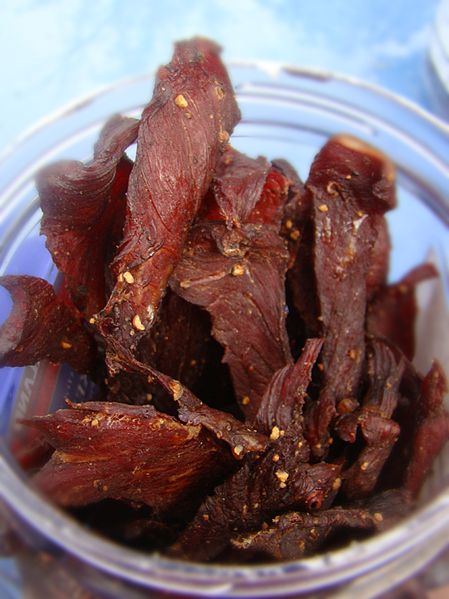 Most importantly, all the boys seem to like both types, so I'm a happy jerky-maker!
Kevin