The combination of orange, fennel and garlic has become one of my favourites in dry curing pork loins (lonzino), so I decided to make a salami with the same flavour panel. The sausage dried for 7 weeks, with a weight loss of 38%. The orange and fennel come through beautifully and complement each other very well, and the aroma is simply divine! It should be bottled and sold as an air freshener!
I also used fennel pollen for the first time in this recipe, so maybe that is why the taste is so good. The other spices did not detract from or interfere the fennel, orange or garlic. Colour not the best but I suspect the orange zest is responsible for giving it that brownish hue. Also a bit of dry rim, since the salami was left unattended for a little over three weeks, but two or three weeks vac-packed and in the fridge will fix that. Like with all the salami I make these days, I made a couple smaller salami using the Umai tubes. They were ready in 4 weeks. Compared to the chamber cured sausage, they were a little sharper in taste with a hint of tang. But even so they tasted quite good.
So if you want a salami that's more than salt and pepper and one that everyone will like, this is it! So start zesting your oranges!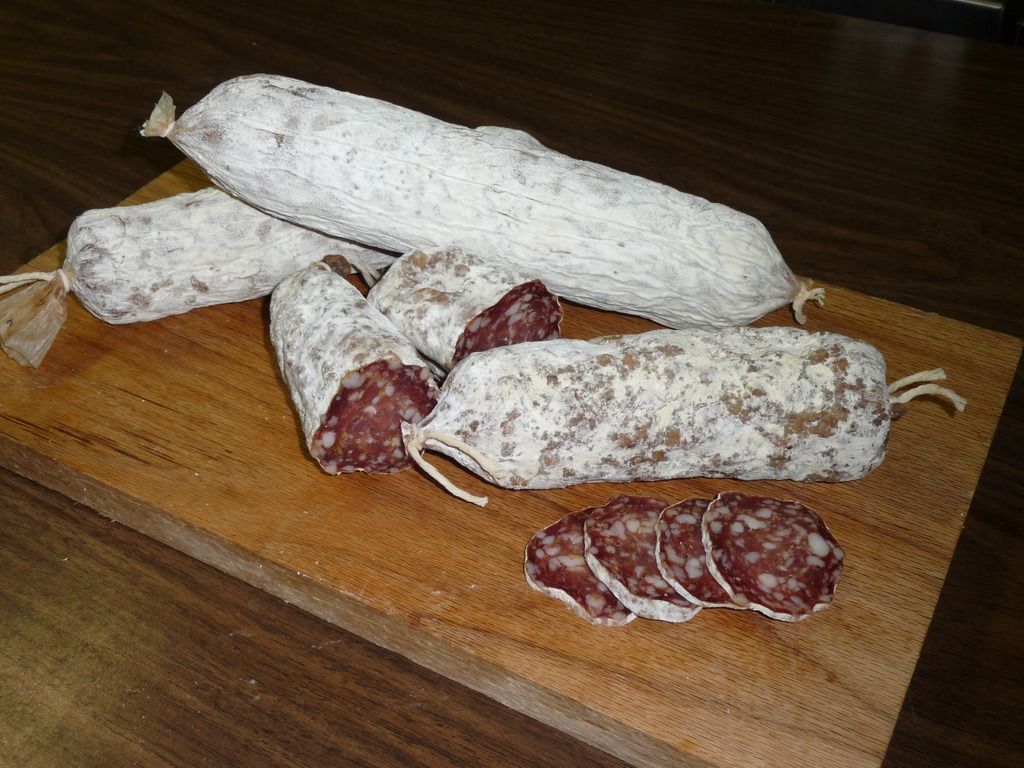 Orange and Fennel Salami
Meats
Class I (lean with no connective tissue) pork from ham 780g
Back fat 220g
Ingredients per 1000g (1 kg) of meat
Salt 23g
Cure #2 2.5g
Fresh garlic 3g
Mixed peppercorns, coarsely ground 3g
Orange zest (dried) 3g
Fennel (toasted and ground) 2.5g
Fennel pollen 2.5g
Mace 2g
Mexican hot chile powder 3g
Dextrose 3g
S. erythorbate .5g
White wine 25ml
B-LC-007 starter culture - rounded 1/2tsp used for the 4.4kg meat block
Instructions
1. Cut lean meat into 3-4cm. cubes, and back fat into slightly smaller ones.
2. Add the salt, #2 and cure to the meat and fat and rest in fridge for 48 hours.
3. Semi-freeze meat and fat before grinding. Grind the fat and meat together with the 7mm plate
4. Add the rest of the ingredients to the ground meat and mix thoroughly.
5. Stuff into beef middles or protein lined casings. (I used the latter)
6. Ferment at 20-22C and 90+ RH until pH reads 5.3 or lower, but ideally not below 5.
7. Dry at 75-85% RH until weight drops by 35%
8. Surface starter optional but recommended.