Here`s a go at making a five-pound batch of
Mortadella
. My wife loves this stuff, and so after recently make 10-pound of bologna, she asked me to try my skills at making some traditional mortadella. For those unfamiliar with this Italian delicacy, mortadella is a firm, emulsified pork & beef product with visible bits of high-grade white pork fat. Often it also contains black peppercorns and pistachios. Good mortadella is slightly spicy (not hot) with a distinct `good bologna` aroma, and a pleasantly smooth texture. Unlike it`s distant cousin, bologna, mortadella is usually very thinly sliced & served as is-no frying. It makes a great sandwich or simply eaten by itself.
First we need to start with some good meat. - 2 to 1, pork to beef ratio. I`m using a fairly-lean beef chuck and pork loin, with a bit of pork shoulder I had: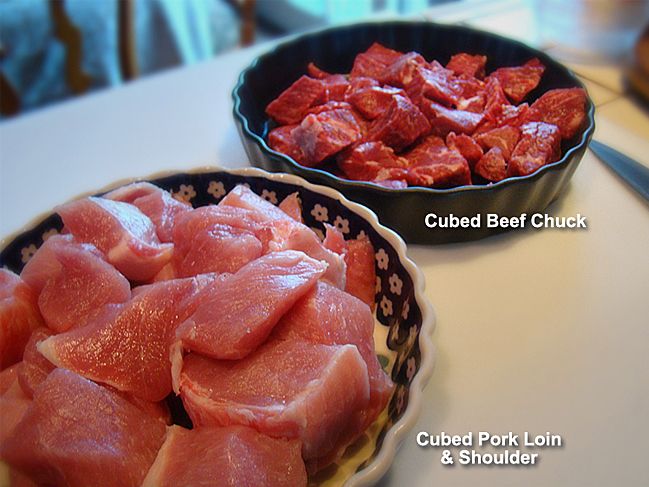 Very important to this recipe is the addition of pork back fat. Belly fat is considered not ideal due its softness and ease of rendering, so I was able to pick up a thick slab of the back fat from a local carnicería. I cut a half-pound into 1/4" cubes.
Ratio of meat to fat for this mortadella is 80-85% lean/15-20% fat-so in fact the end result will actually be much leaner than the vast majority of store-bought lunchmeats. Traditionally, mortadella is 70/30 lean to fat; so I`ve trimmed the fat down just a bit.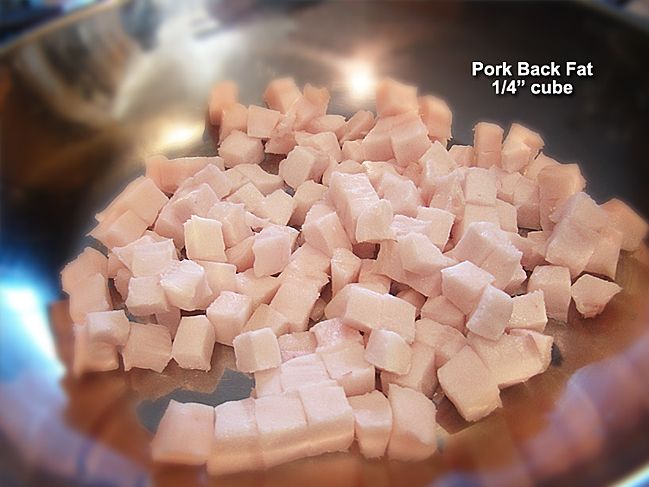 Here are the list of ingredients I`ll be adding to the ground meat. Although this product is not smoked, the cure adds the traditional color & texture to the final results. The whole peppercorns and whole pistachios (locally-grown!) will be added, along with the fat cubes, prior to stuffing.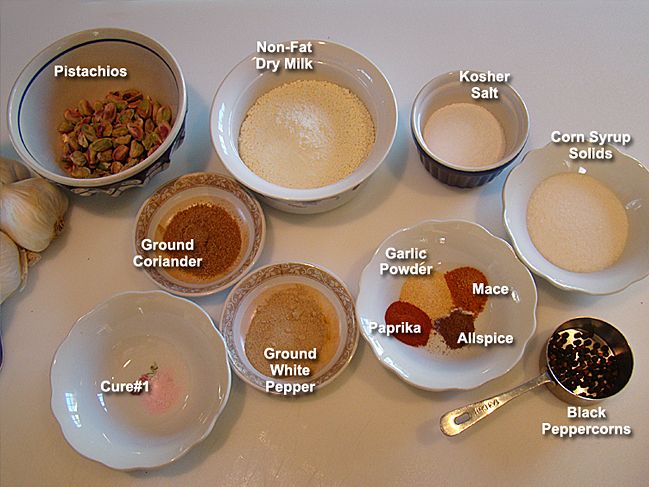 Mortadella
Makes approx. five pounds.
INGREDIENT / METRIC / U.S.
Pork Butt/Shoulder 1150g 2.5 lbs
Beef 525g 1.25 lbs
Pork Fat 225g 0.5 lbs
Non-Fat Dry Milk 60g 2 Tbls
Corn Syrup solids 47g 2 Tbls
Coriander; ground 5.0g 2.0 tsp
Mace; ground 1.5g 0.5 tsp
White Pepper; ground 4.5g 1.5 tsp
Garlic powder 5.0g 2.0 tsp
Paprika 2.0g 1.0 tsp
Kosher Salt 35g -----
Allspice 1.0g ------
Cure#1*** 1.8g .25 tsp
Black pepper; whole 4.0g 1.0 tsp
Pistachio Nuts 60g 1/2 cup
NOTE: ***Cure amount is on the low side in this recipe. Cure is added for texture and color ONLY. This sausage is meant to be cooked thoroughly at a higher temp (165°), NOT smoked. If one wishes to smoke it, the cure amount needs to be adjusted per meat weight in the proper proportion (1 level teaspoon of cure should be used for every 5 lbs. of meat)
Divide pork fat into two groups. Cut one group into 1/4" dice.
Chill & set aside for later.
Grind chilled meat & 1/2 of fat through medium plate.
Add salt & cure, mix well then refrigerate for several hours to allow meat to cure.
Add remainder of spices (except whole peppercorns) to meat & blend thoroughly.
Regrind through smaller plate (3.0mm); adding 1/2 cup of ice water if necessary
Add in cubed fat, peppercorns and pistachios; mixing well to disperse ingredients in the meat paste.
Stuff into fibrous casing.
Immediately poach in 165° water until IT of 155° is reached.
Ice-bath to cool down.
Chill very well before slicing thin. serve.
Grind Number One: 4.5mm medium grind to start. I`ll next add the majority of spices: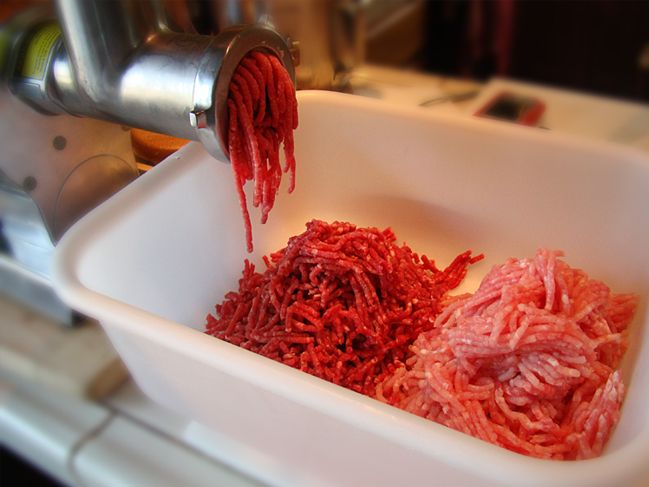 MIX: Using my Kirby Bucket mixer; meat in and spices added...
Less than a minute later, the meat is well-mixed and ready for a second grind:
2nd GRIND
: Using a 3.0mm plate for a fine grind.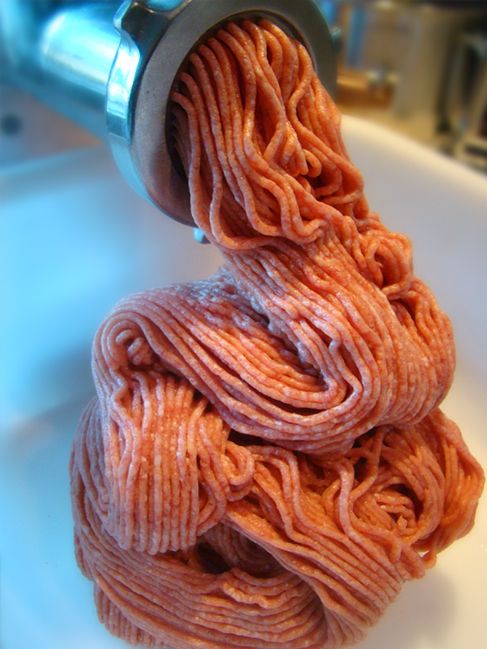 Final mix
: Adding the last `whole` ingredients to the meat paste- the whole peppercorns, the pistachios, and the fat. I`ll mix this in and let it rest overnight.
Next day it was a nice day outside so I brought the
Kirby cannon
water-powered stuffer outside to make quick work on this single chub.
Meat-cannon loaded & ready to go: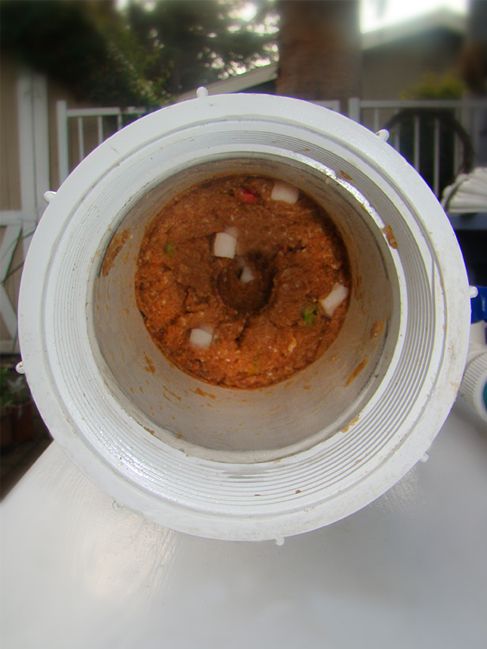 Using the largest feed tube (41mm). This particular Kirby cannon will hold about 12 pounds packed, so its only about half-full.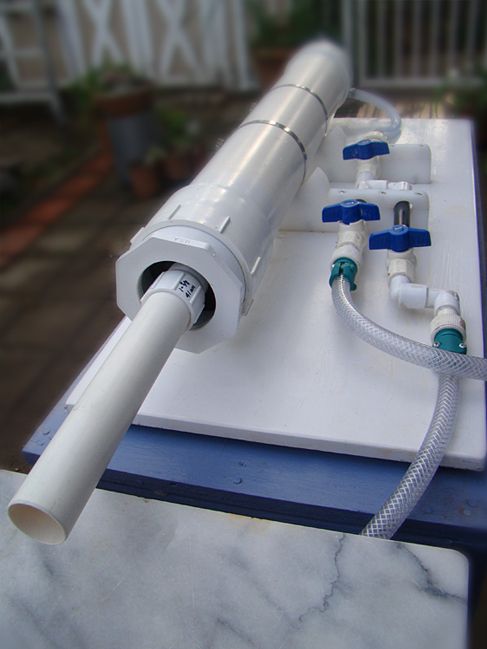 A few minutes later, the chub is done.
The
"Mini Mort"
...
Next step is to get water up to 165 degrees and add the mini mort. I expect this slow-poach will probably take a good 3 hours to reach the desired IT of 155 degrees. time to go watch the game on tv.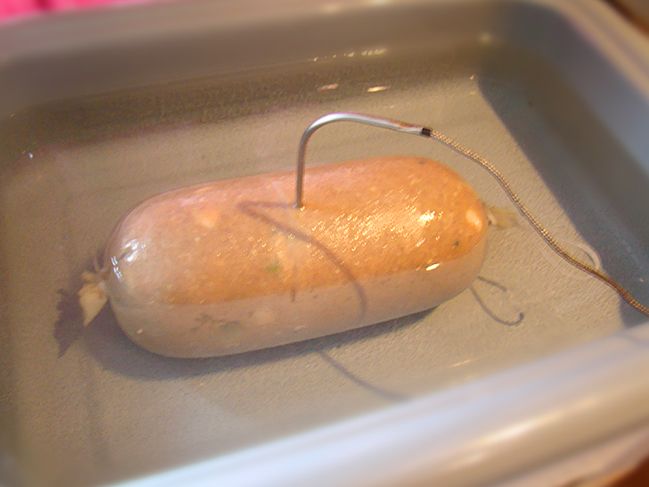 After it reached the IT, next is a quick ice-bath. The chub will then rest for a day or so in the fridge to firm up before being sliced.
After resting overnight, the mini mort is WELL-CHILLED and ready to be sliced...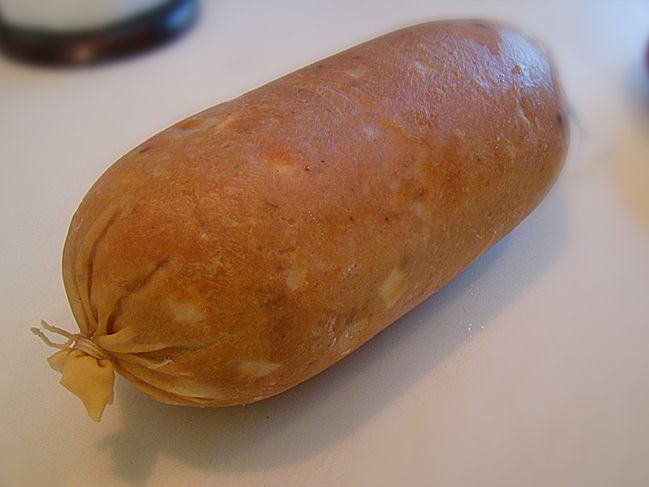 Upon slicing it, I was pleasantly surprised to find a good distribution of all the whole ingredients in the chub. The flavor and texture were great. Thinly sliced, it has a nice somewhat mild flavor with a kick of heat from the peppercorn. Nice crunch from the pistachios, too. My wife said it was quite delicious, and since she's the 'mortadella connoisseur' around here, I'll take that as a success!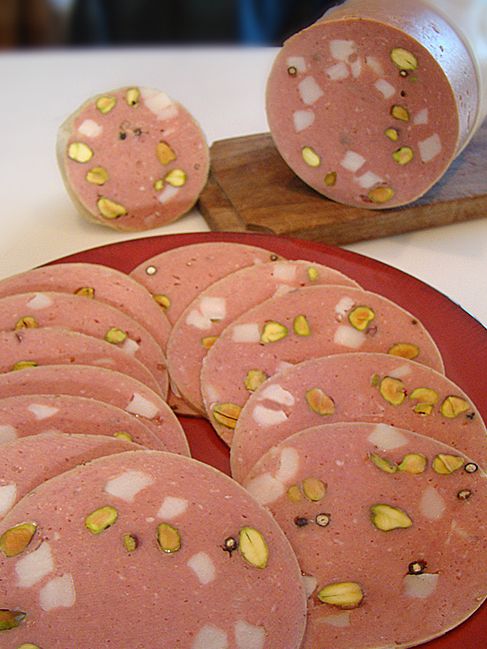 Got a portion put in ziploc bags for the fridge, and the rest I'll keep in foodsaver bags that'll keep for quite some time.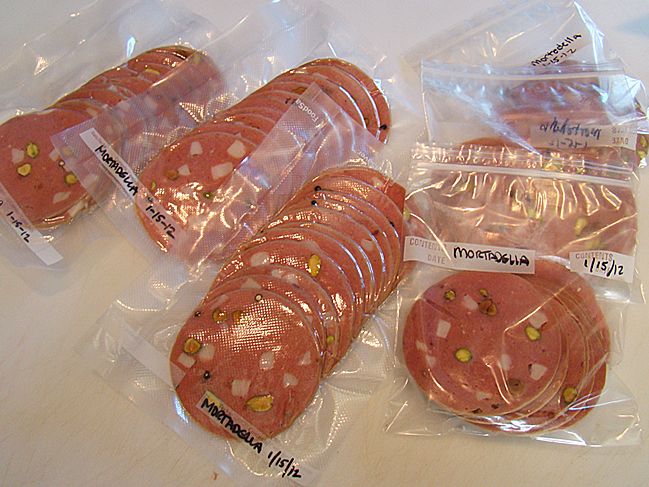 Best eaten freshly sliced with some olives, cheese & crusty bread! Good stuff!
- Kevin