User

Posts: 96
Joined: Sat May 04, 2019 23:14
Bob K

wrote:

↑

Tue Jan 21, 2020 18:05

Agoracritus

wrote:

↑

Mon Jan 20, 2020 22:33

The Lonzino I've made a few times from pork loins was only EQ cured for 5-7 days (in the fridge) before netting and hanging it in my curing room. That seemed to be plenty of time for the salt and cure to completely penetrate the meat evenly. (Isn't that all that really matters with the EQ part of curing, or am I missing something? I'm not questioning your expertise, just a little bit confused why It would 10-14 days minimum to reach an equilibrium between the salt/cure, meat and moisture content.)

This link may help you on curing times, you are just not going to get an EQ (dry Rub) cure in 1 weeks time on a loin. Salt may penetrate the meat block but it will will be much saltier on the exterior than the interior. It need time to equalize.

https://meat.tamu.edu/ansc-307-honors/meat-curing/

As Butterbean mentioned a dry cured product is different than one that will be cooked and finished immediately. Dry cured still has time to equalize.
Okay, thanks Bob. That makes more sense to me now.
For several years before I got into curing, I used to use an EQ brine for loins to make into "pork jerky", so I just used a similar method when I started playing around with cured pork loins. Basically, even though I did use some curing salt (basically just Tender Quick instead of salt) to make jerky, I would now consider them "brined" more than "cured", as I better understand the common confusion between the two terms now.
I did cook the loins, either in the smoker or in the oven (wrapped in tinfoil) before chilling, slicing and then dehydrating the slices, which makes sense to me now why 4 days was plenty of EQ time. The reason my brain went back to this method regarding Scogar's questions, was because I always figured that before I put the (cooked/smoked) sliced loins in the dehydrator, they were basically "Canadian Bacon".
I can post my simple recipe for pork loin jerky/(Canadian bacon...
?), if anyone is interested.
Thanks again for clearing things up for me.
Scogar- I think the 1 cup may be a typo...good choice
Agoracritus

wrote:

↑

Wed Jan 22, 2020 04:35

I can post my simple recipe for pork loin jerky/(Canadian bacon...?), if anyone is interested.
By all means post it!
UPDATE
The Canadian bacon is done. In essence I made Chuckwagon's recipe but forgot to inject the meat so I let it sit in the brine for one extra day (6 all in). He has two recipes both of which are linked to earlier in this conversation. I made the one with 1/2 cup of salt. I was concerned that not injecting would result in less than perfect salt distribution. This was not an issue. I calculated Chuckwagon's cure (both white and pink salt totaled) to be a 5% of the water weight aka 19° Brine.
After brining the meat, I pulled it and rolled 1/2 of it in cracked black pepper, the other I left alone. Both pieces were placed back in the refrigerator wrapped for about 69 hours (just a few hours shy of three days). I pulled them and put a fan on them for about 1 1/2 hour to dry them and them tied them. They were placed in the smoker for six hours. I started below 100°F for about 90 min, the only smoke naturally occurring from the lump charcoal and that was minimal at best. After 90 min, I added white oak and kept a light smoke on them for the remaining 4.5 hours. I kept my temps low to start and brought them up to about 125-130°for the last 30-45 minutes. The inside temp of the largest was 84°F when pulled from the smoker. I set the oven to 200°F and over the course of three hours brought the interior temp up to 150°F. Pulled from oven and cooled in refrigerator overnight.
This morning I cut into them and shrink-wrapped in about 1 pound blocks for freezer storage. Here are some shots of the product:
Tied and raw
, sorry for the blur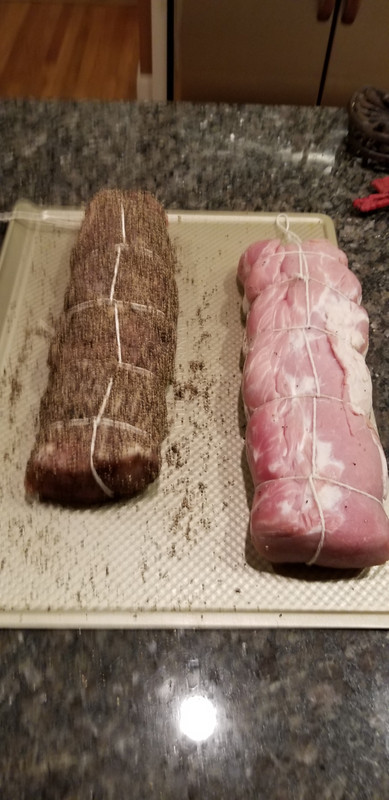 After smoker
, the two smaller ones were a friend of mine's who wanted to try this as well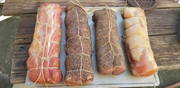 Finished product
, slices were my breakfast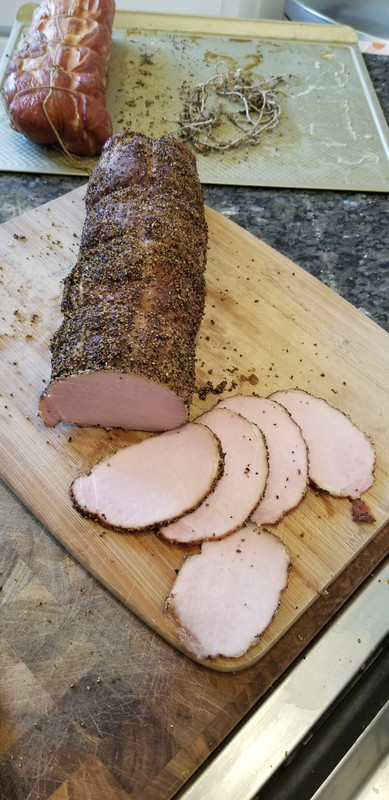 Close ups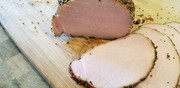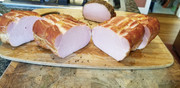 My review, I think it is a great recipe but I made it predominantly for my wife. It will be great for Eggs Benedict as well as homemade egg McMuffins. It was not too salty and the salt made it all the way through. I tend to like fattier bacon, belly of course, but I will soon find out if I like buckboard bacon as that's curing right now as well.
Moderator

Posts: 1826
Joined: Mon Mar 05, 2012 04:10
Location: South Georgia
Thought I would cobble onto this same thread since I started it and I wanted to close out the conversation on injection.
Above, are images of the Canadian bacon I made which my wife loves. About the same time I also made a buckboard bacon. Both were recipes from Chuckwagon on the recipe post. As I noted I completely forgot to inject the Canadian bacon therefore I was 1000% certain to inject the Buckboard bacon. It definitely did not make a difference on the Canadian bacon, I suspect because it was no more than 3-4 inches thick and was in a wet brine, i.e., surrounded on all sides. I also believe (in my case) it may not have made as much of a difference of the buckboard bacon either. Even though buckboard bacon is a shoulder which of course is much thicker than 3-4 inches, because you cut the scapula out, I'm not sure that there was truly any place that had a meat thickness much greater and so long as brine could get to all the surfaces I don't think the cure would suffer.
Personally I would lean toward injecting to be certain of cure coverage, however, but unless I was doing a ham or something solid and truly thick, I don't know that I would fret over it given sufficient cure time and equilibrium rest. Here are images of the buckboard bacon. After curing I cut it down the center to make two belly bacon size-ish slabs: